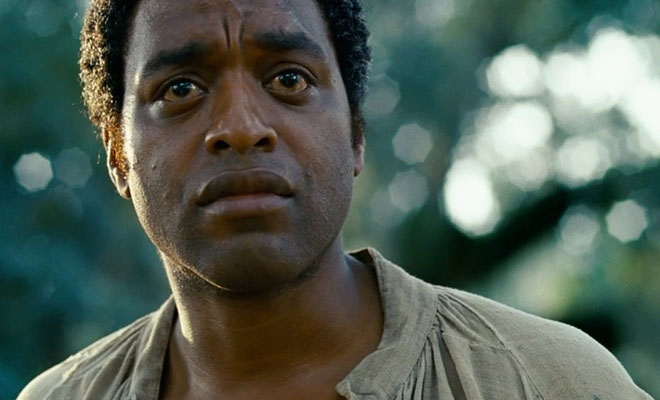 If you're tired of the barrage of popcorn fluff that has been forced on audiences all summer, hang in there for just a few more months. The trailer for "12 Years a Slave" has arrived and it looks like we have another reason to pine for winter other than the heat.
Set in the 1840's, the film follows the remarkable true story of Solomon Northup (Chiwetel Ejiofor), a free black man who was tricked into slavery and forced to work on a Louisiana plantation at the hands of his ruthless master (Michael Fassbender). Northup, who later detailed his experiences in a book of the same name, was not rescued until 12 years later, when a compassionate man he encountered (Brad Pitt) informed his family of his whereabouts.
Directed by Steve McQueen, the film also features a distinguishing supporting cast that includes Paul Giamatti, Michael K. Williams, Paul Dano, and Benedict Cumberbatch.
"12 Years a Slave" marks somewhat of a departure for MQueen, who began his career as an artist.
The British-born visionary made his directorial debut in 2008 with the gut-wrenching  "Hunger." The docudrama tells the real life story of Bobby Sands, who died during a hunger strike in a Northern Irish prison in 1981. He followed that up with the equally haunting 2011 shocker "Shame," which follows a man suffering from a crippling sex addiction.
"12 Years a Slave" features a large ensemble cast while McQueen's first two films are largely about the isolation of a single character. "Hunger" and "Shame" both relied heavily on the film festival circuit for attention while this film seems to have been generating award season buzz since it was first announced.
Both films also star Fassbender, whose budding career may arguably be attributed to them. Dspite his breathtaking and bare (literally and figuratively) performance, the Irish actor was famously left off the list of Oscar nominees after "Shame" was released.
Perhaps the Academy will repent by honoring him with a Supporting Actor nod next year. After all, they unjustly failed to recognize the last actor who flawlessly portrayed a wacko slave owner –"Django Unchained's" Leonardo DiCaprio.
"12 Years a Slave" is set to be released on December 27, 2013. 
WATCH THE TRAILER HERE:
Be the first to receive breaking news alerts and more stories like this by subscribing to our mailing list.