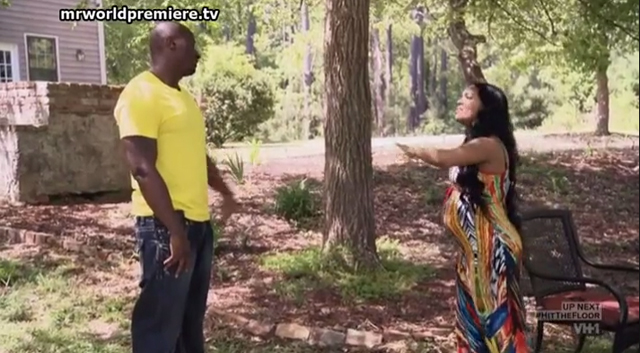 There are two times in a woman's life when a man should NEVER, ever cross her path: 1) When she's having her period. 2) When she's pregnant. Why does Kirk seem to be unfamiliar with this man law?
In a scene that looked like it was picked up straight from the cutting room floor of the straight-to-DVD classic Trois, episode 12 of the second season of "Love & Hip Hop Atlanta" opens with Kirk getting stroked, rubbed and humped by two naughty vixens.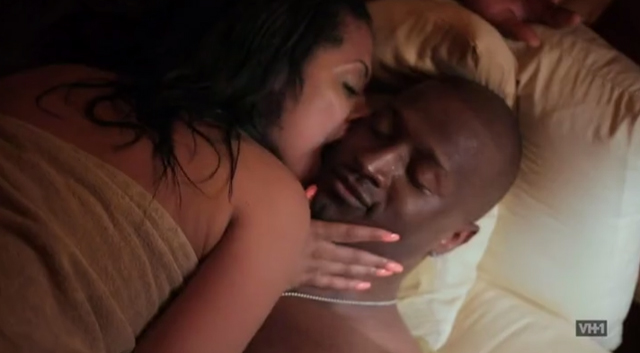 Now as steamy and racy as this looks, the fact that all of this "infidelity" was captured on camera with the perfect mood lighting and staging wreaks of a scripted scandal. If Kirk was REALLY trying to do some downlow, dirty shit, there's no way he'd allow a camera crew to catch him in the act.
This is some Mona Scott-Young engineered drama and you know what? That's ok. We don't come here for the truth, we come here for the ratchet. And the thought of a man stealing away to a log cabin to screw some "popcorn hoes" while his pregnant wife sits at home waiting for him is the definition of ratchet.
I just hope the check is worth Kirk's reputation as a decent human being, cause this fool's name is getting dragged in the mud.
So the day after Kirk's nighttime romp, he wakes up all bleary eyed and chats with Benzino as he sips a cup of morning tea.
Benzino tries to scold Kirk for his irresponsible behavior, but HE's the one who invited Kirk up to the log cabin and brought the popcorn hoes over to the house. So what the hell is he talking about, saying Kirk went too far and that he doesn't think it'll help Kirk with his marriage?
How do you set the bear trap and then wring your hands over the poor beast getting snagged? Benzino stay playing both sides of the fence.
The real trouble begins, however, when Traci bumps into Kirk and his popcorn hoes at her Pretty Girls Rock event. Bambi, (yes, Bambi of Basketball Wives LA fame) yaps her big gums about how "turnt up" Kirk was at the log cabin in front of Traci. Traci's bug eyes open as she soaks in all of the sordid details. And hey, Kirk doesn't deny any of it.
So what does Traci do? She immediately goes to runtelldat with Rasheeda the next day. Traci has the driest, dumbest storyline on the show, but you have to give her credit. This bitch knows how to instigate some shit.
Traci reports all of the tea she saw at her event and brings up Kirk's claim that she "gave him a pass" to smash and dash whoever he wants. Rasheeda refutes his claim saying, "You don't go messing with ratchet hoes off the corner."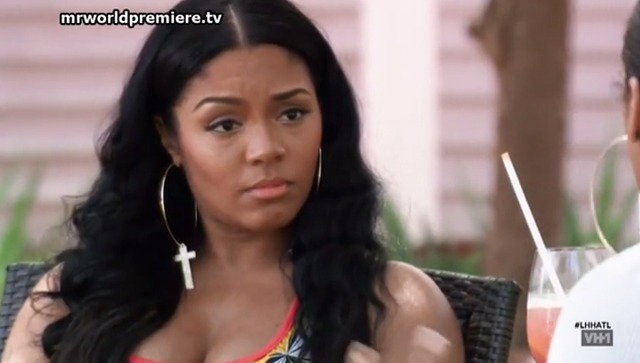 Rasheeda's words say one thing but her face is worth a thousand other words. The pain, distress and torture is so clear on her face. She's mad as hell at Kirk for his tom foolery. Guess Mona didn't let her in on the script that she penned for Kirk?
As if on cue, Kirk arrives on the scene and Traci scurries off like a rat with the last piece of cheese, so she can avoid the blowback of being ATL's gossip queen. It's a good thing she left though because Rasheeda goes Angela Bassett on Kirk's ass and kicks him out of the house and attempts to burn this man's clothes.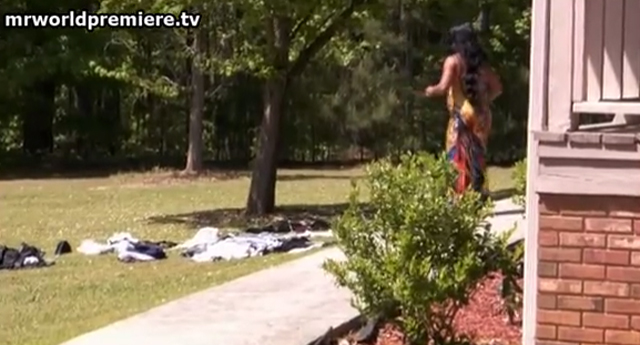 Kirk don't know who he's messing with. The spirit of Mary J. Blige has been lit within Rasheeda and this black woman scorned ain't gon' take no more of this bullshit.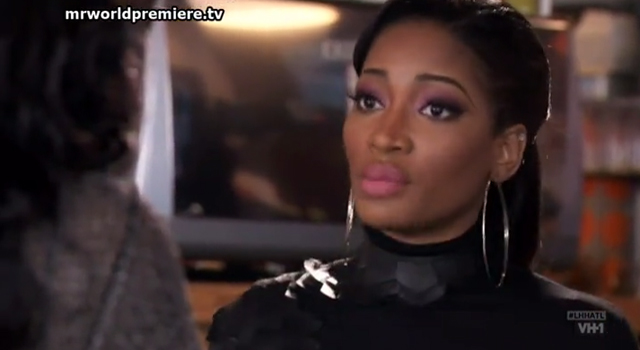 Erica and Momma Dee's Love/Hate Relationship
Erica has been on a roller coaster relationship with her baby daddy Lil' Scrappy for the past few years, but this up and down relationship extends beyond Scrappy and spills over to his mother as well. Erica and Momma Dee do not like one another, but they keep finding reasons to meet and "talk" about their issues.
So here we are again, as Momma Dee and Erica try to break bread over Scrappy's prison sentence.
Erica is understandably annoyed with Scrappy's latest jail stint since it leaves the question of his child support up in the air. Momma Dee offers to chip in for the welfare of their daughter on his behalf. But Erica rejects Momma Dee's offer saying she doesn't want her money because she didn't offer it before, or something.
This shit don't make no sense. If Erica really needs the money to provide for Imani like she says she does in her confessionals, then why would she not take what's owed to her daughter, even if it comes from her grandmother instead of her father?
Probably because Erica's spiteful ass is more interested in sticking it to Scrappy. Not convinced Erica's out to hurt Scrappy? How about this: She decides to pawn Scrappy's engagement ring on the fly.
Now Scrappy might have messed up during his engagement to Erica, but if Erica truly feels like the relationship is beyond repair, why doesn't she do the right thing and return the ring to s Scrappy? Because that would be mature and responsible.
Instead, Erica hops over to the jewelry store and decides to trade the ring in for consignment since that brings in the most bread. For some strange reason, Momma Dee accompanies Erica as she exchanges her engagement ring for cash.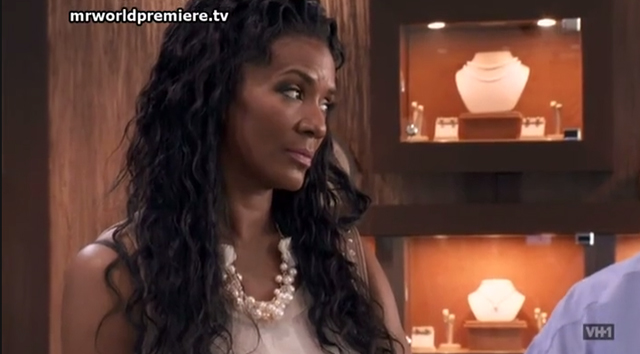 Maybe she just wanted to serve as an eye witness so she could testify to Scrappy later.
Either way, Erica walks out of that jewelry store $15,000 richer. Hoes don't be winning, but baby mamas sure do.
Later in the episode, Momma Dee organizes a coming home party for Scrappy to celebrate his release from prison. Seeing as he's surrounded by loved ones and having a good time, Erica decides that now would be the perfect time to share with Scrappy that she pawned the engagement ring he gave her for $15,000.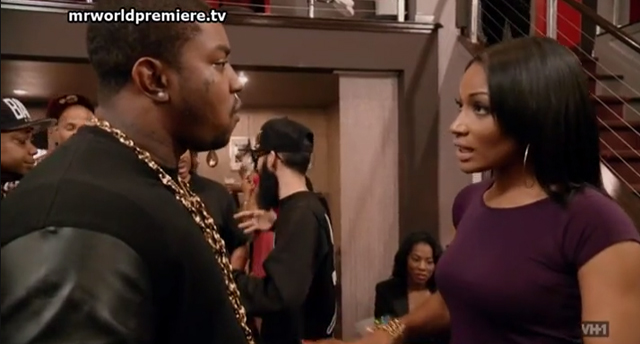 Scrappy is, as expected, infuriated by Erica's ingratitude and storms off. But he should've demanded a receipt and the return of his ring. You don't drop over $15,000 on a woman for an engagement ring and let her walk off with it with no strings attached.
Lucky for him, he has a pitbull of a mama who's willing to bark when he'd rather whimper. So Momma Dee gets to howling and before you know it, Mignon, Erica's mom, jumps into the mix and starts hollering and putting hands on Scrappy and his moms.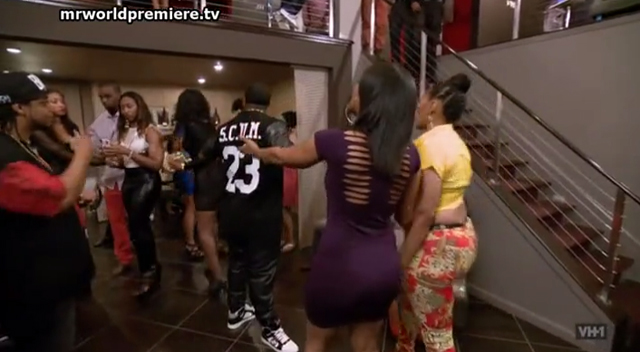 Before you can holler out "turnt up!," Scrappy done shoved Erica who stumbles and busts her ass in her stilettos. Ruh oh. Did Scrappy just Chris Brown his baby mama?
Taking full advantage of the drama, Erica bellows that she's going to call the police on Scrappy as she and her mother make their exit from the event. But this belly aching is nothing but noise. In the end, Erica and Mignon drive off without getting the po-po involved after all.
There's street decorum to this hood rat shit, and they ain't finna violate the code of ethics.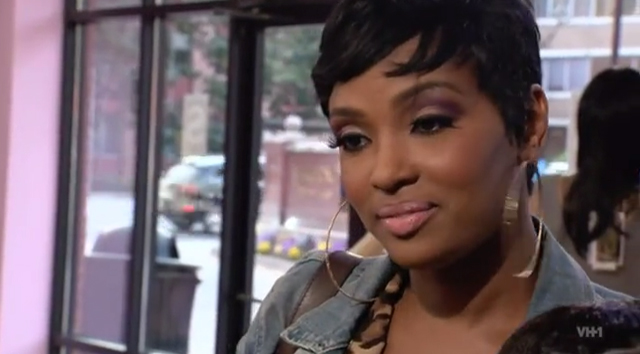 Ariane Has No Business in Show Business
Since Mimi is stuck with her head up Nikko's rectum, her gal pals K. Michelle and Ariane are left to their own devices. K. Michelle's music career is starting to take off and she's been given the green light to headline her very own tour. Which means she needs to hire back-up singers.
While shooting the shit at the wig store, Ariane casually mentions to K. that she'd love to audition for K. Michelle's tour.
Stop the record. Ariane SINGS?
Now it finally makes sense. All this time, I've been wondering why the hell this chick has been hanging around soaking up all this camera time as Mimi's clit flea and now the truth has finally been revealed: She's hoping to turn this reality TV platforming into a record deal.
So basically, that means Ariane is no better than Karlie Redd or Joseline. So please keep that in mind the next time Ariane sits in the confessional and tries to snub her nose up at somebody.
Sensing that this whole idea of Ariane singing for her could be a hot mess, K. Michelle warns her friend that she won't play favorites with her and that she will have to audition like everyone else. Ariane readily agrees.
Word gets out around town about K. Michelle's back-up singer audition and the line is wrapped around the block. Who knew so many people were eager to "ooh" and "whoa whoa whoa" behind a Keyshia Cole wannabe with little-to-no presence on the Billboard charts?
Feeling like an American Idol judge, K. greets her adoring crowd and gets to work judging the contestants. Before long, we get to Ariane who looks and sounds like death. Apparently, she's sick. Which means her audition doesn't go as well as it should have.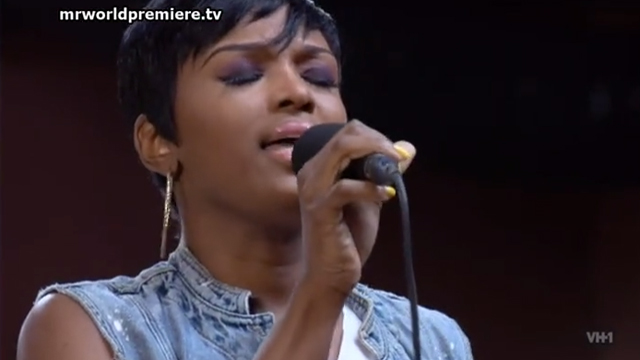 One of K. Michelle's cohorts rips Ariane to shreds a la Simon Cowell saying she sounds like a dying cat. Ariane bucks up and tries to check him for dissing her.
"What are you trying to do?" Ariane protests.
Um, he's trying to read and shade the shit out of you on national television, Ariane. What the hell does it look like?
After Ariane's audition goes sour, K. graciously thanks her friend for coming out and quietly escorts her out of the building.
For once, K. Michelle is the peacemaker and not the shit starter. Is the Keyshia Cole imitator turning over a brand-new leaf?
Be the first to receive breaking news alerts and more stories like this by subscribing to our mailing list.