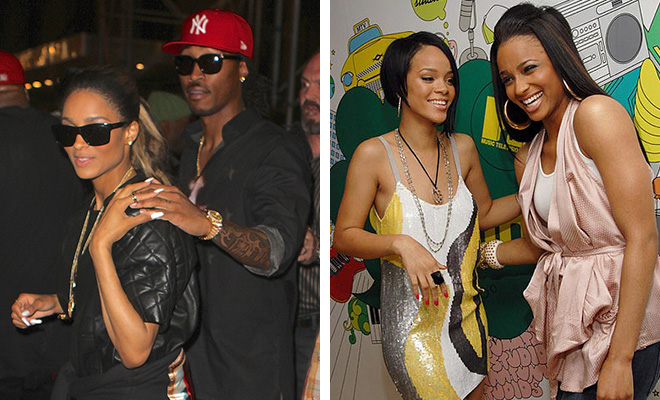 For several months now, Ciara and Future have gone out of their way to let us know that they're smashing. Say, by going to every paparazzi haven in Los Angeles known to anyone who knows better.
However, Future tells MTV News that despite how picture perfect the two looked in their obvious photo ops, it's been super duper hard for him to open up in that way to the public.
According to Future, who covers the latest issue of The Source magazine, "Sometimes it's hard to open up about your personal life, your relationship because you always want the music to be in the forefront. You want the music to be the biggest carrier of everything that you represent."
So as I expected, it's Ciara's fault.
Speaking of Ciara, Future also addressed her beef with Rihanna. The one she started years ago on that episode of Fashion Police when she randomly brought up Rihanna acting funny with her. Oh well, that's what your ass gets.
But yes, Future says he wonders whether or not that stopped Rihanna from making the very excellent "Loveeee Song" an official single. "We never shot a video, we never performed it. I don't know whether it was because of that situation or if just the time hasn't come up," Future noted.
Well, radio already played it to death, but I sure wouldn't mind a real video and performance. That song is it.
Check out Future's interview below:
Be the first to receive breaking news alerts and more stories like this by subscribing to our mailing list.