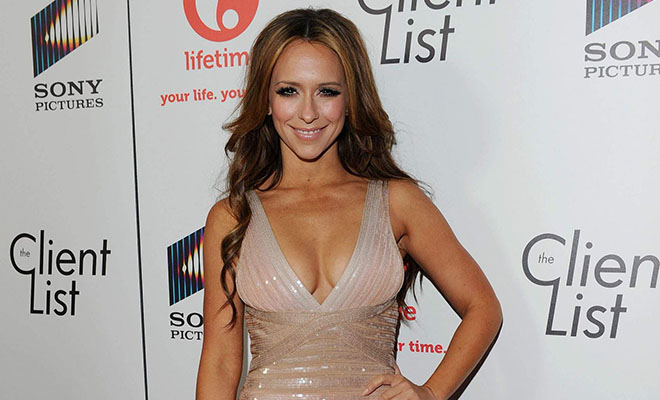 She may play a woman who works at a massage parlor that provides sexual favors, but in real life, Jennifer Love-Hewitt will soon take on an entirely different role. Us Weekly is reporting that the actress is expecting her first child with actor Brian Hallisay.
If you've ever watched a few — or all (**points to self** Guilty!) — episodes of her Lifetime series "The Client List," then you know that the couple are also co-stars on the series.
According the reports, the two have been dating for 15 months. The 34-year-old first met the actor when they appeared on the doomed series "Love Bites." No word yet on how this will affect "The Client List," but given the plot of the series, it would be pretty amusing if her character found herself to be with child.
Currently in its second season, the embarrassingly addictive, often implausible show centers on a single mom who is struggling to support her two children. She takes a new job at a spa only to discover that she's expected to provide a lot more than just tension relief. Hallisay portrays Hewitt's suffering husband, who abandons his family and causes this whole mess to begin with.
Though Hewitt has yet to post about the news on her official Twitter page, she did reach out to Bruno Mars about the sudden death of his mother. The actress, who lost her mother Patricia to cancer last June, tweeted words of support for the music sensation.
My heart is breaking for Bruno Mars and his family tonight. I know all too well, to recent and too deep what they are feeling.my prayers

— Jennifer Love Hewitt (@TheReal_Jlh) June 2, 2013
Nothing in the world like a mother. And nothing can prepare you for the pain of losing one. Sending my condolences.

— Jennifer Love Hewitt (@TheReal_Jlh) June 2, 2013
Hewitt is known for promoting positive and supportive thoughts on Twitter and has remained one of Hollywood's most down-to-earth stars. The actress has also carved out a successful career as a producer and writer. She not only produces "The Client List" but has a deal with Lifetime to develop more original content for the network.
In 2010, she released the bestselling book "The Day I Shot Cupid," which chronicles her dating and relationship experiences.
Be the first to receive breaking news alerts and more stories like this by subscribing to our mailing list.