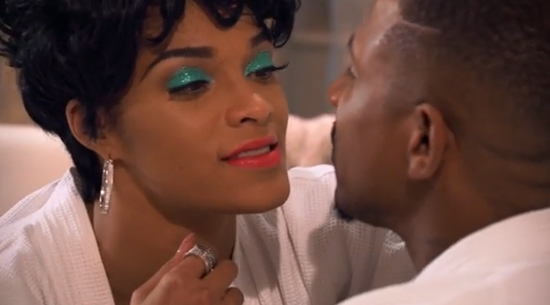 Steebie J, as Joseline Hernandez calls her boo thang, is harder to quit than that crack rock. Despite breaking things off with Stevie repeatedly, Joseline keeps on running back to that old yeller.
Joseline and Stevie aren't the only ones caught up in the back and forth either. The super trailer for "Love & Hip Hop Atlanta" Season 2 finds Scrappy waffling again between his fiancee Erica and his jumpoff, Shay. But things get turnt up to the max when Momma Dee plots against Erica and comes to blows with her almost-daughter-in-law.
One woman who doesn't need no man to bring the drama is K. Michelle. She mixes it up with her rival, struggling rapper Rasheeda, which is to be expected. What's not so expected is K. Michelle laying the smackdown on Stevie's baby mama, Mimi. What in the hell? Didn't K. Michelle dedicate a damn song to her plight last season?
Guess friendships last about as long as a bag of dollar fries on LHHA.
Oh, there are two new castmates too, DJ Traci Steele and Baby Drew, but you can barely tell them apart and they're insignificant.
Watch the super trailer for the new season of LHHA here:
Monday, April 22nd can't get here ANY faster!
Be the first to receive breaking news alerts and more stories like this by subscribing to our mailing list.