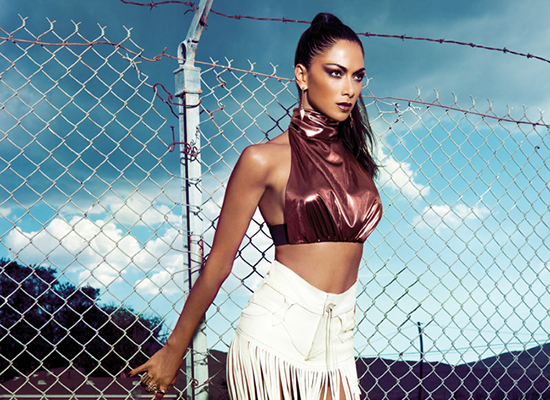 Nicole Scherzinger [desperately] wants to let the world know she's back (!) with the release of her new single, "Boomerang." Unfortunately, the question remains…has Nicole Scherzinger "The Solo Star" ever official arrived?
After the disbanding of the widely successful but horribly managed Pussycat Dolls in 2010, the Dolls' former lead singer re-focused her sights on making it big on her own. Sadly, after an embarrassing series of failed "first" singles and a moderately successful stint on "The X Factor," old Scherzy just couldn't catch a break. However, with the coming of a new year comes a new attitude and it seems Nicole is ready dust herself off and try again!
Take a listen to Nicole's new song below:
Pros:
Unique melody

Sounds like nothing on the radio right now

Engaging vocals from Nicole, she sounds to be having a good time singing the song
Cons:
Uninspired hook

Sounds dated by about 4 years

Production is a bit busy

Hard to hear the lyrics through the multiple vocal layers and heavy production
Nicole's biggest problem is that she's much too eager for a hit. Instead, she needs to take a step back and look at her releases from the past 2 years to discern why each and every one has been a ubiquitous flop.
The exotic beauty has yet to find her niche and time is running out…a few more duds like "Boomerang" and Nicole Scherzinger will fade to black, becoming nothing more than a guest on an upcoming episode of TVOne's "Unsung."
The only thing the song accomplishes is giving Ms. Scherzinger's audience an unfiltered glimpse into her mindset regarding the type of music she should be making.
Frankly, if she is signing off on recording such generic Pop songs with little to no lasting impact then the only one to blame for her continued failures as a solo artist is herself. Maybe someone should take a quick trip back to the drawing board…
Be the first to receive breaking news alerts and more stories like this by subscribing to our mailing list.