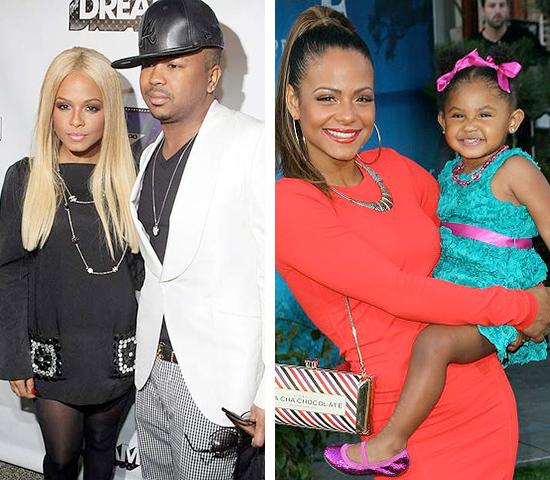 Christina Milian and The Dream are NOT on good terms … and Christina made that known in a recent interview during Essence Music Festival weekend, in which she basically called her ex husband a deadbeat dad because he doesn't spend quality time with their two-year-old daughter Violet.
On being dissapointed in The Dream not being apart of their daughters life:
I'm not happy at the moment, but I have come to the realization that I have to be 200% mom for her and it's not about finances, it's about spending time.

On not being a dramatic baby momma:
I'm not one of those who withhold their children from their baby daddy. Don't do that….

On whether distance is a huge factor and if he even Skypes with their daughter:
We live in different cities, he's in Atlanta and I'm in LA. There are planes and plenty of money for airplanes so… as far as skyping, I'm just gonna leave it at that my daughter is a great kid and someday their will be a healthy man in my life that will love her the way I do.

[Source]
It was only a matter of time before The Dream caught wind of Christina's criticism of his parenting skills (or lack thereof…), and he fired back at his ex-wife on Twitter, calling her a gold digger and a has-been:
Love You too. Those 15 minutes are almost up though boo!

Publicity Stunt. Are people really this Stupid. If I had a serious issue concerning care for a loved one. I'd call the source…

She had a plan to come up before she met me I called her on it. Go digging for gold u might find it.. But its hard to carry that much weight

Has Been….
After airing out his feelings on Twitter, The Dream called in to Philadelphia's Hot 107.9 to chat with radio personality Q Deezy … and though he originally claimed he didn't want to speak on the issues between him and Christina, and her slamming his parenting skills, he eventually said a few words about the situation, claiming that he does e-mail her, but she never responds. He also went on to say that she has changed and has become a "different person" after signing with Cash Money.
Explaining why he doesn't want to speak directly about the drama with his baby mama/ex-wife, The Dream said:
We have kids that are involved in a different way, so the things that we say come back to them. So it's more people than myself. So I can't just get out and say whatever it is I wanna say.

I'm quite sure that everybody knows that I have a way with words and if I wanted to say everything that I wanted to say, it would be devastating to a lot of people. I just choose not to do that. What's the point?

When things are real, when it comes to down to children in a household or if you got a problem with somebody, you pick up the phone and call them. If I ain't got a phone call, that means that somebody's on something else. I can't do nothing about that.

I wish Christina the best on her debut and hopefully her career takes off and she gets exactly what she deserves.
Of course Christina had something to say in response … and after reading The Dream's tweets and listening to his radio interview, she posted this to her Twitter:
Don't listen to lies from LIARS. I wish sometimes I could really let everyone know what I know.

StayBlessed. I got God on my side. All I need.

What u r reading is only a taste of the trash in my email. I have them all saved. Eventually u stop responding to stupidity. & stop caring

Get Some Class…
Sounds like BOTH parties need to take Christina's advice … and hash things out PRIVATELY and not on Twitter, and definitely not in interviews.
Your thoughts?
Be the first to receive breaking news alerts and more stories like this by subscribing to our mailing list.