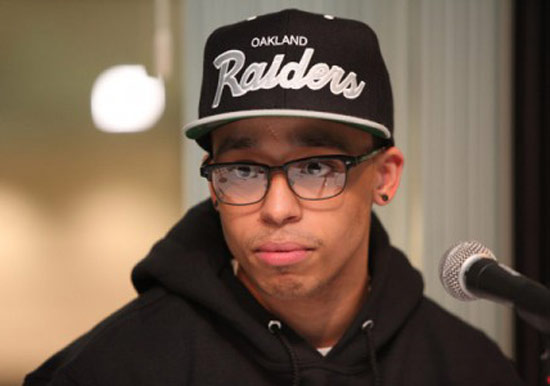 Machine Gun Kelly wasn't the only rapper with the word "Gun" in his name who got arrested over the weekend.
Young Money rapper Cory Gunz was taken into custody for gun possession in the Bronx, NY on Saturday afternoon (Jan 28). His father Peter Gunz confirmed to MTV News:
"The details are still sketchy, but I can confirm that he was arrested with a firearm yesterday in the Bronx. They caught him around 2 p.m. in the afternoon with a loaded gun in his knapsack. It was definitely an illegal search."
After briefly speaking to Cory himself … Peter says the officer who arrested his son felt bad about the situation.
"I spoke to the arresting officer, and so far, what I'm hearing from him is that they got a phone call at the station saying they should look out. According to [the officer], they didn't know he was Cory Gunz. They just saw a bunch of kids following him around.

"What I will say is that the officer that arrested Cory actually happened to be a cool dude. After arresting Cory, sitting down with him and talking, he felt bad about the situation."
According to XXL … this just so happens to be Cory's first offense, but in New York if an individual is found guilty of illegally carrying a loaded firearm, there is a mandatory minimum sentence of 3 and 1/2 years.
"At the end of the day, there's a reason for everything, but at the same time, in New York, it's mandatory jail time. To go to a precinct and see your son, your junior, in handcuffs, it's heartbreaking. Anytime you see your child in jail, in the cell, in handcuffs, it's very hard.

"He's walked down some of the same paths that I walked down, but you never want to see your kids go through what you went through. This is Cory's first offense, but sometimes they like to make an example out of rappers and people with any kind of celebrity to them."
Hopefully Cory can get all this worked out … and learn from his boss Weezy to put the guns down!!!
Be the first to receive breaking news alerts and more stories like this by subscribing to our mailing list.