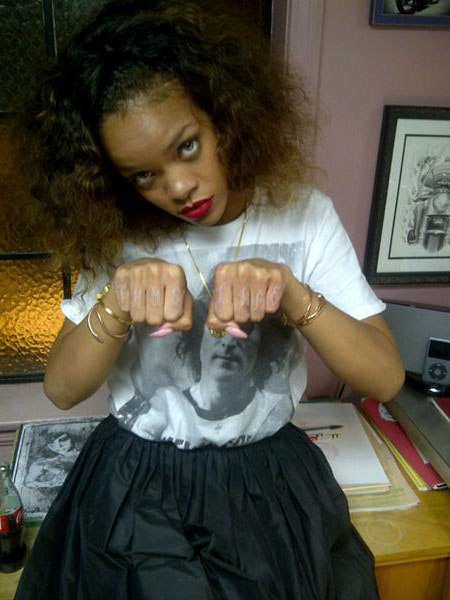 Adding to her already extensive tattoo collection, Rihanna recently got the words "Thug Life" tattooed in pink to her fist, paying tribute to late rapper Tupac who famously got those same words tattooed across his lower stomach.
? All these bitches screaming that 2pac back ? #THUGLIFE lockerz.com/s/177609408

— Rihanna (@rihanna) January 25, 2012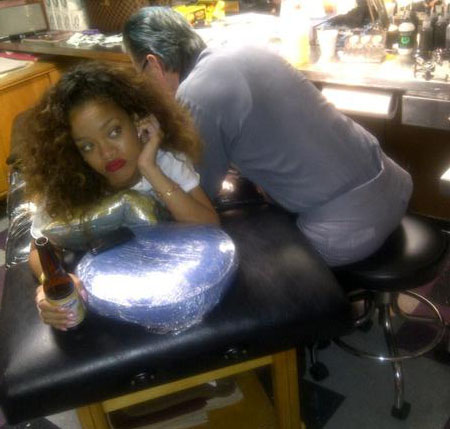 Rihanna, who celebrates her 24th birthday next month, got the ink-work done at a Los Angeles tattoo parlor, where she also got a couple of other new tattoos (courtesy of artist Mark Mahoney) that she hasn't shown off yet.
I #LOVE my new tattoo!!! Can't wait for yall to see it!!! I got it in "Tibetan" this time!!! #approved

— Rihanna (@rihanna) January 25, 2012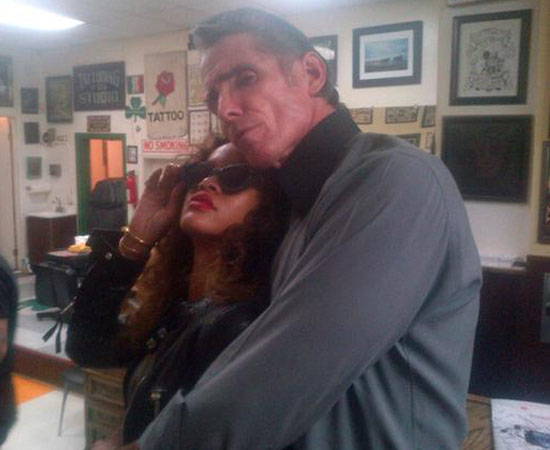 "'My boo Mark Mahoney!!!! #RockstarS*** #TATnight," she tweeted to her Twitter followers as she showed off her new tattoo.
Including her new tattoos, Rihanna has around 13-15 total, including:
— A music note on her ankle
— A Pisces sign behind her right ear
— The word "love" on her left middle finger
— "Shhh" on her right index finger
— A prayer on her hip written in Sanskrit
— A trail of stars on the back of her neck
— "Rebelle Fluer" (French for 'rebel flower') on the side of her kneck
— The words "Never A Failure, Always A Lesson" on her inner shoulder
— A handgun on her rib
— Her best friend's birthday written in Roman Numerals on her upper shoulder/neck
— A skull & bones with a pink hair bow on her ankle
Rihanna is tat tat tatted up!
Be the first to receive breaking news alerts and more stories like this by subscribing to our mailing list.