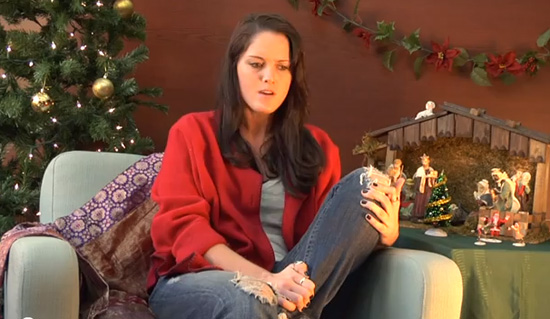 Okay, so it was a Kristen Stewart lookalike … but still!
From the people who brought you "Kristen Stewart's How to Speak More Good" comes a touching re-telling of the birth of Jesus Christ.
As many know, K-Stew plays a very pregnant Bella Swan in the hit film "The Twilight Saga: Breaking Dawn." So who better to explain the story of Christmas than an actress playing the actress who played Bella?
Kristen Stewart (aka 1/2 of "Robsten") is known for her strange tics and awkward nature, and her likeness provides a "cool-ish" retelling of the nativity story while twirling her hair and adopting an overly casual approach.
In other words, pretend K-Stew is just as overly self obsessed, moody and awkward as the real one. Funny stuff!
Watch below:
By: Justine Ashley
Contributing Editor for Gossip On This
Be the first to receive breaking news alerts and more stories like this by subscribing to our mailing list.