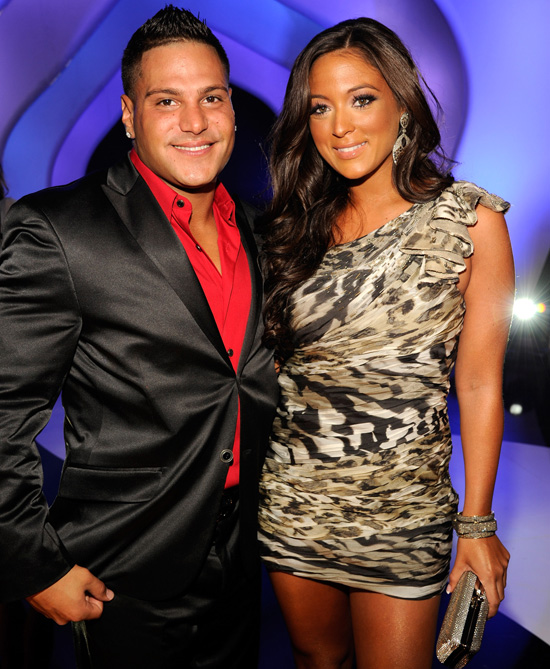 In today's "who cares?" news … Jersey Shore's most famous off on and on couple Ronnie Ortiz and Sammie Giancola have broken up for what seems like the hundred thousandth time.
"We are not together," Ortiz-Magro confirmed to Us Weekly at Tuesday's Paranormal Activity 3 superfan screening in New York City.

Following an explosive spat seen on Jersey Shore's third season in fall 2010 — he stomped on her glasses and called her a "spoiled bitch," leading to a breakup — the pair reconciled to film their fourth season in Florence, Italy.

Being in Italy, in such a romantic atmosphere, brought us together," Ortiz-Magro told Us prior to the show's August premiere. "The first week was rough — everyone was like 'Oh, my God.' But [Sammi and I] didn't fight at all in Italy. [It was] probably the highest point in our relationship."

Jersey Shore's Paul "Pauly D" Del Vecchio — who saw the couple fight, break up and make up during the show's filming in Florence, Miami and Seaside Heights, N.J. — tells Us he prefers his pal single.

"I love single Ronnie," Del Vecchio says. "When he's doing the relationship thing, I let him do his thing, I don't get involved. When he's with Sammi he's a different person. She's a difficult woman!"

[US]
**Rolls Eyes**
They'll be back together by next season…
Be the first to receive breaking news alerts and more stories like this by subscribing to our mailing list.