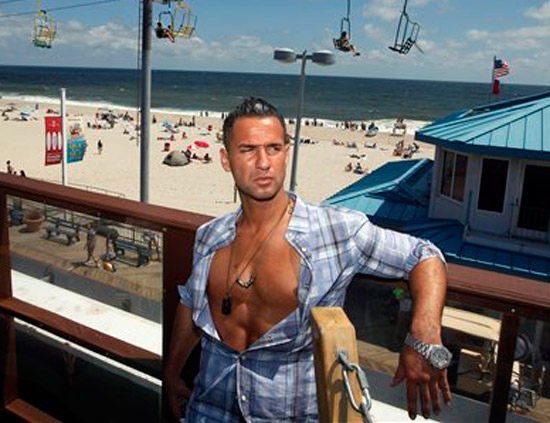 Seriously???
Abercrombie & Fitch is offering to pay The Situation from MTV's "Jersey Shore" money to not wear their clothes because the clothing giant feels as if their brand is being tainted by all of the buffoonery that the show is known for.
Read more below:
Abercrombie & Fitch wants Mike (The Situation) Sorrentino to leave its clothes in his dirty laundry pile.

The neo-preppy retailer is offering to pay the "Jersey Shore" star not to wear its clothes because they're afraid his buffoonish image is sullying its brand.

"We are deeply concerned that Mr. Sorrentino's association with our brand could cause significant damage to our image," the retailer said in a statement.

"We understand that the show is for entertainment purposes, but believe this association is contrary to the aspirational nature of our brand, and may be distressing to many of our fans," the statement said.

A&F said it offered Sorrentino "a substantial payment" to wear other brands, and also made the offer to the rest of the show's cast.

There was no word whether The Sitch would ditch his Abercrombie gear, but the retailer said they were "urgently" awaiting a response.

Despite their current concern, A&F didn't seem to mind the free press Sorrentino gave them last year when "Shore" was at the height of their popularity.

In an interview with New York Magazine last summer, the fist-pumping partier revealed the effect his nickname had on merchandise.

"The show went international, and I read that it's very big overseas, especially 'The Situation' — my name, or my character — is known worldwide now," he said. "Abercrombie & Fitch, their most popular shirt, they told me, is 'Fitchuation.' I mean, where did they get that from? Obviously from myself."

The MTV hit is currently in its fourth season, which is set in Florence, Italy. Its premiere Aug. 4 episode set a ratings record for the network with 8.8 million viewers.
This is some of the most ridiculous sh*t we've heard in a while…..people should be able to wear whatever they want whenever they want.
But hey, if A&F is paying folks NOT to wear their clothes, we can't even really be mad at em. Money does talk. And it's really loud.
Be the first to receive breaking news alerts and more stories like this by subscribing to our mailing list.