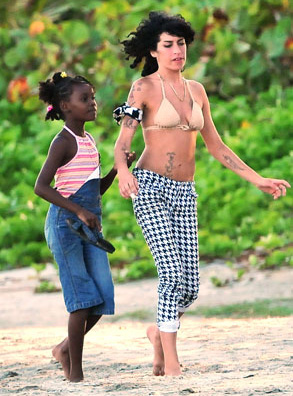 A lot of speculation has arisen since the death of British singer Amy Winehouse. One story in particular that caught people's attention was that after spending many months on the island of St. Lucia, Winehouse was in the process of adopting a 10 year old St. Lucian girl at the time of her death.
British tabloid paper The Mirror ran the story and "confirmed" their claims by securing an interview with 10-year-old Dannika Augustine, booked airline tickets and alleged hired lawyers.
The little girl had allegedly told the paper, "Amy way already my mother. I would call her mum and she would call me her daughter. She took care of me and we had fun together. I loved her and she loved me. She was the most amazing person and I was looking forward to living with her here or in London. I cannot believe she is gone. This is the worst thing that has ever happened to me."
However, Winehouse's rep has since spoken out and said, "There's no truth to it."
But where did this story come from in the first place?
E! Online reports:
Amy had obviously taken a shine to the young Dannika Augustine, having been photographed with her several times during her lengthy stay in St. Lucia.


But by the Mirror's own admission, the girl has ample family on the island, a grandmother, who also got roped into seemingly corroborating the story and through whom the odd couple met (Marjorie Lambert runs a beach bar on the island which Amy frequented), and Dannika's single mother.

They all come from poverty, which at least seemingly goes a little way toward explaining how the tabloid may have come across the supposedly exclusive story (dollar signs can be a powerful motivator, after all).
Meanwhile, Amy Winehouse's father Mitch continued to show how big his heart is as he and Amy's mother Janice and her brother Alex were clearing out his daughter's possessions over the weekend.
According to Sandra Rose (via The Sun):
Grieving fans of singer Amy Winehouse who passed away on Saturday were rewarded for their loyalty to the star. The fans, many of whom held a vigil outside Amy's $4 million flat for 6 days straight, watched yesterday as her parents, Mitch and Janis and her brother Alex, entered Amy's flat to begin clearing out her possessions.

But instead of putting everything up on eBay, the fans were stunned when Amy's dad emerged from the flat with an armful of clothes – and began giving the items away. "These are Amy's T-shirts. This is what she would have wanted – for her fans to have her clothes," said Mitch as he distributed the clothing to Amy's surprised fans.

Even in death Amy was able to touch her fans in the most intimate way, via her father, through the precious joy of giving.
Be the first to receive breaking news alerts and more stories like this by subscribing to our mailing list.