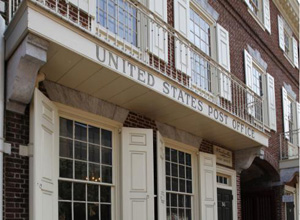 The U.S. Postal Service has released a list that includes nearly 4,000 post office branches that could be closed to save money.
As early as January 2012 … around 3,700 post offices with low sales and few customers will be put on the chopping block.
And as expected, small towns and communities are royally pissed.
The Postal Service is looking at about 3,700 post offices with low sales and few customers for possible elimination as early as January, Postmaster General Patrick Donahoe said Tuesday. Most of those under review take in less than $27,500 a year and have only enough customers and mail to keep them busy two hours a day, Donahoe said.

The Postal Service will spend at least four months evaluating each post office. Anyone who objects to a closing has 60 days to submit comments to the Postal Service.

Proposals to close any of its estimated 31,000 post offices often meet strong resistance from communities and their representatives in Congress. In January, the Postal Service named 1,400 post offices it wanted to close; 280 are gone.

Democratic Sen. Tom Carper of Delaware, who chairs the subcommittee that oversees the Postal Service, called closings a "difficult but necessary step" to save the Postal Service from collapse.

Republican Sen. Susan Collins of Maine said the plan would hurt rural communities without solving the Postal Service's money problem.

"The fact is, maintaining our nation's rural post offices costs the Postal Service less than 1 percent of its total budget and is not the cause of its financial crisis," she said. "While there are some areas where postal services could be consolidated or moved into a nearby retail store to ensure continued access, this simply is not an option in many rural and remote areas."

As it closes branches, the Postal Service plans to set up what it calls "village post offices" in supermarkets and gas stations to provide basic services such as stamps and flat-rate package shipping.

The Postal Service has cut 110,000 jobs and reduced costs by $11 billion since 2008 to offset a sharp drop in mail as people do more business online. Still, the Postal Service projects a deficit this year of $8.3 billion.

First-class mail, one of the largest revenue sources, declined from 103.7 billion pieces in 2001 to 78.2billion pieces in 2010.

Collins has proposed a bill she says would ease the Postal Service's budget deficit by reforming workers' compensation and contracting requirements and letting the postmaster tap "an enormous overpayment" into retirement funds.
We blame e-mail (and Twitter) for the fall of the USPS!
Be the first to receive breaking news alerts and more stories like this by subscribing to our mailing list.