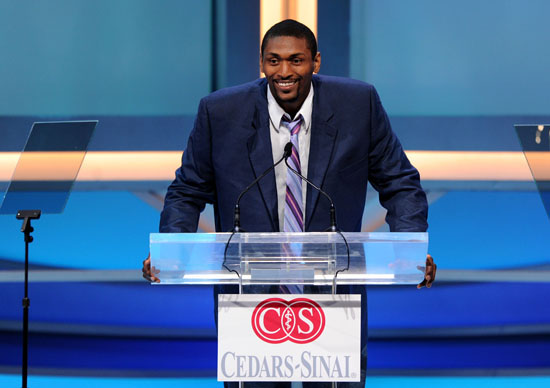 Ron Artest is back in the news for being weird again…
The former NBA champion announced yesterday that he has filed paperwork to officially change his name to "Metta World Peace."
"My understanding is 'Metta' will be his first name and 'World Peace' will be his last," Artest's spokesman John Black said. "Metta is an early Buddhist word, with various definitions along the lines of kindness or goodwill."
According to TMZ, Ron — excuse us, "Metta" — even has plans to put his new last name — "Peace" — on the back of his #15 Lakers jersey.
Name changes are usually granted by a judge, unless of course the change results in confusion or fraud. Other famous athletes who have successfully changed their names include Cassius Clay (Muhammad Ali), Lew Alcindor (Kareem Abdul-Jabbar) and Chad Johnson (Chad Ochocinco).
We can't wait to hear Ron Metta explain himself this time around.
What do you think about Ron Artest's strange new name?
Be the first to receive breaking news alerts and more stories like this by subscribing to our mailing list.