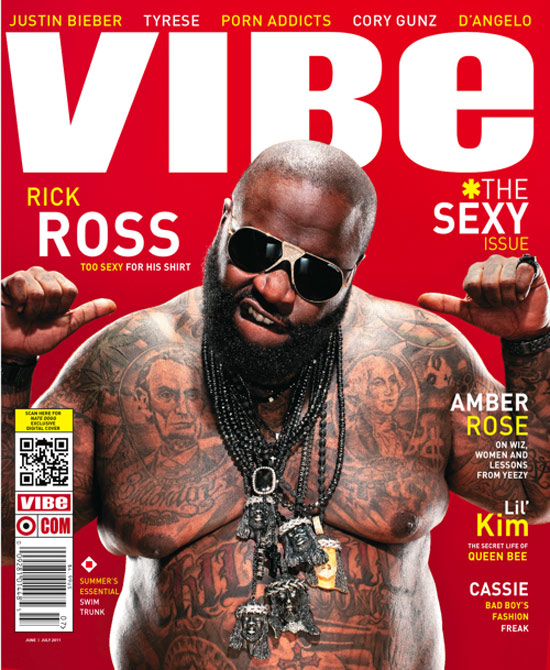 Rick Ross show of his big ole belly on the cover of VIBE's June/July Sexy issue.
In addition to the cover, Ross and the rest of the Maybach Music Group had a one-on-one with Power 105.1's Angela Yee.
Check out a few excerpts below:
Angela Yee: Have you ever messed with a girl that you were embarrassed about and you hoped no one finds out?
Wale: When I was younger. Seeing them in the club the next time like, Damn, if I could see me from last week I'd beat the shit out of me. I'd put a roofie in my own joint so I don't end up talking to this chick.
Meek Mill: Like 3:30 in the morning, not having a girl. It be like that sometimes. I fuck a lot of bad women, don't get it twisted. I got a thick one, a little husky… I got that one and she's always around. And people found out I hit it—

[All laugh]

Mill: She ain't fat. She's thick. She's like 25 percent over the line.
Pill: She had a few too many goddamn double cheeseburgers.

What about you, Ross?
Ross: I be sliding through the 'hood, I can't lie. I love extravagant exotic women, but I come from the 'hood at the same time. So if I'm in my Chevy riding through the 'hood and you see one of those ghetto girls in a hot pink shirt, you're just like 'Hey, put your number in this.' I'm still in touch with the 'hood like that.

You're giving back to the community.
Ross: I still give back. I can't even front.
Pill, I've seen you with some crackheads.

[All laugh]

Mill: Pill is a 'hood nigga, for real. He doesn't give a fuck.?Pill: On some real shit, I've had some that didn't look all that right. I play like I ain't know it that day in the club because—
Ross: You can't act like you don't know it.?Wale: That's what makes them go crazy.
Pill: I ain't gon' lie, one of my worse experiences was waking up in the morning years ago and I looked over to my left and said, "Aww, man, what the fuck were you doing, dog?"
Ross: I can't sleep the whole night with a chick. Before sunrise, shorty, you got to go.?Pill: Obviously, I was too fucked up in the first place to have you in my bed and in my house if you're looking that bad. So I went to sleep and when I got up, I'm asking you, "What went down? Did I really just…"
Ross: You done ate the pussy.
Be the first to receive breaking news alerts and more stories like this by subscribing to our mailing list.