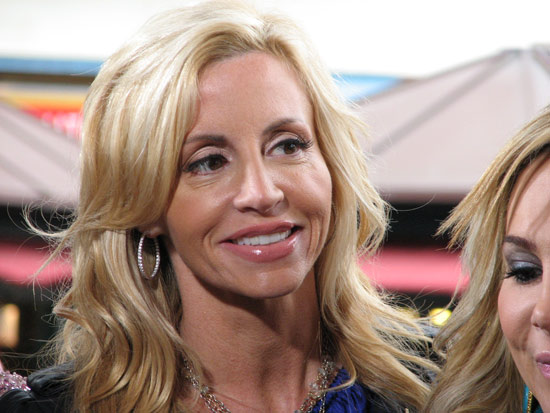 "Real Housewives of Beverly Hills" star Camille Grammer is not about to take her ex-husband's request for custody of their two children lying down.
According to PEOPLE, a close friend of Camille's tells the mag:
"She will fight like hell to keep her children with her, being raised by her, exactly where the children wish to be."
Last week Camille's 56 -year old ex-husband, Kelsey Grammer, filed for sole custody of Mason, 9, and Jude, 6, in L.A. County Superior Court. The filing offers Camille time with the kids during half of their summer and half of their winter breaks.
Unless you've been living under a rock for the past year you know that back in 2010, Kelsey moved out to New York City to star in the Broadway musical "La Cage Aux Folles".  While there he met flight attendant Kayte Walsh during this time and announced his split from Camille later that summer. The couple officially divorced in February and Kelsey married Walsh later that month. The newlyweds now reside in New York City, while Camille lives in Los Angeles with her and Kelsey's children.
Speaking on the couple's very public split, Camille's pal had this to say about the former "Frasier" star:
"He abandoned his family and got married within months of separating from Camille, all of which speaks volumes about his parenting and his respect for his current children," says the friend, who describes Camille, 42, as a "loving and compassionate mother."

"Camille looks forward to a full and complete professional evaluation," the friend continues, "which she is more than confident will show her to be the more appropriate person to be primarily responsible for the custody of the children."
Don't really see how Kelsey is going to get a judge to rule against a child's mother, but then again- – anything's possible with the right amount of money.
Be the first to receive breaking news alerts and more stories like this by subscribing to our mailing list.