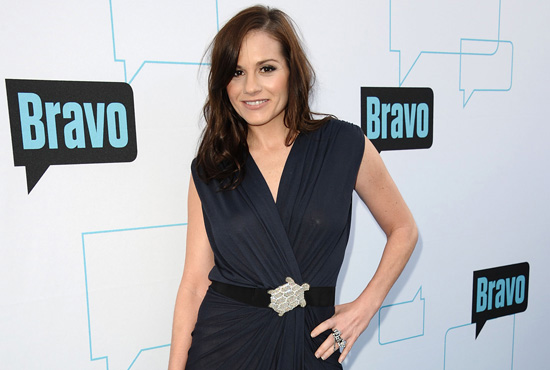 Readers who pick up former American Idol judge Kara DioGuardi's upcoming memoir will find some serious subject matter alongside talk of the hit Fox series.
According to E! Online, DioGuardi's new book "A Helluva High Note" – on sale April 26 – details the molestation she suffered as a child and her experiences with date rape and sexual harassment years later.
Inside the pages of the book, DioGuardi claims she was repeatedly assaulted at age 11 by the teenage son of a family friend. "On one particular day, he took me into the back shed of his house and put his hands all over my breasts and vagina," she reportedly wrote. "I remember freezing and not knowing what to do."
Subsequent years later, a "fairly known producer" in the music business allegedly assaulted Kara after they shared a friendly meal together. "[W]ithin a few hours, he was on top of me, pumping, sweating, and speaking to me in Spanish, not a word of which I could understand," she wrote, adding that she feared he'd become violent if she tried to stop him.
A few years after that, the songwriter, now 40, reportedly found herself in another sexually-charged situation when a "hugely successful artist" invited her on what was supposed to be a work-related trip. "The trip's activities," ended up consisting "of watching Russian porn, scavenging around the kitchen for food [and] leering at two strippers … as they performed sex acts in the living room."
DioGuardi initially didn't want to "let this bastard deter me from doing the job," but eventually ceased working with him once the harassment escalated on a future occasion.
As far as"Idol" goes, DioGuardi claims her two-year stint on the show directly correlated to her inability to get pregnant. "I wanted a child and there was no way I could get pregnant under the stress of eighteen-hour work days and live TV," she reportedly wrote, a lesson she learned after going through "three unsuccessful rounds of IVF during Season 9" in 2009-2010.
So when DioGuardi heard her job might be in danger, she asked the powers-at-be over at Idol to let her out of her contract, and they did just that.
Whew! And you thought your life was hard?
Be the first to receive breaking news alerts and more stories like this by subscribing to our mailing list.