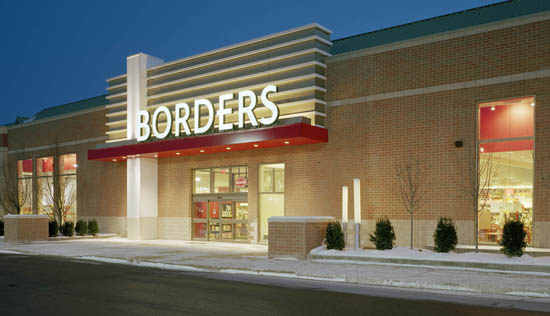 No more meeting at Borders for Kanye West!
According to MSNBC (via Reuters):
Borders Group Inc. filed for bankruptcy protection and said it would close about one-third of its bookstores, after years of shriveling sales that made it impossible to manage its crushing debt load. The long-expected Chapter 11 filing will give the second-largest U.S. bookstore chain a chance to try to fix its finances and overhaul its business in an attempt to survive the growing popularity of online bookbuying and digital formats.
But the chain still faces questions about its longer term survival, in the face of competition from larger rival Barnes & Noble Inc., discounters such as Wal-Mart Stores Inc and Costco Wholesale Corp, as well as web retailer Amazon.com and Apple Inc in electronic books. Borders President Mike Edward said his chain "does not have the capital resources it needs to be a viable competitor." He said the bankruptcy was essential to restructure its debt and still operate.

Borders had liabilities of $1.29 billion and assets of $1.28 billion as of Dec. 25, according to documents filed Wednesday with the U.S. Bankruptcy Court in Manhattan. The pioneer of book superstores plans to abandon some of its highest profile locations, closing a store in its hometown of Ann Arbor, Michigan, as well as one on Manhattan's Park Avenue.

All 200 closings will be superstores, and about 6,000 jobs will be affected, the company said. It has the option of closing up to 275 in all, according to court documents. It said the stores it wants to close lose a combined $2 million a week. The closings will start by Saturday. The company said it will honor gift cards. Borders operates about 500 superstores as well as more than 100 smaller Waldenbooks locations.

The largest U.S. bookstore chain, Barnes & Noble, has had success with its Nook e-reader and online store, allowing it to stay in contention with online book pioneer Amazon.com. Borders has lagged well behind. "Borders has not created a value proposition to be a competitor to Barnes & Noble and the e-commerce challenge," said Anthony Karabus, a retail turnaround specialist with Karabus Retail Management Consultants.

The chain's difficulties have been worsened by the revolving door in its executive suite in recent years. The company has had four chief executive officers in the past three years and two chief financial officers in 2010. Sales declined by double-digit percentage rates in 2008, 2009 and in the first three fiscal quarters of 2010.
Thoughts?
Be the first to receive breaking news alerts and more stories like this by subscribing to our mailing list.