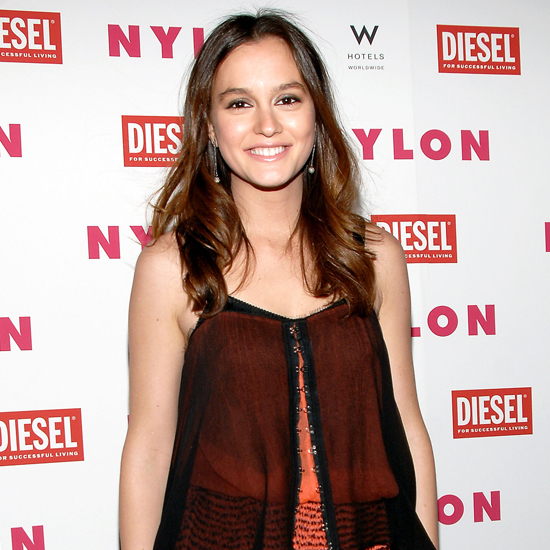 Leighton Meester, also known as queen bee Blair Waldorf for all you "Gossip Girl" fans out there, recently opened up to Parade Magazine and discussed a number of topics, including her frightening role in the new movie "The Roomate," what the future holds with "Gossip Girl," why she likes living alone and much more.
Peep a few excerpts from the interview below:
The one person in Hollywood she would choose as a roommate.
"That's a tough question because I would be a terrible roommate right now. I just go at my own pace and I like control of the TV and I like to decide when I take a shower and wash the dishes and stuff like that. So I don't know who would want to live with me to be honest! I'm so accustomed to being alone. But I would probably choose Minka. She is funny, very tidy, very busy, which is always a good trait in a roommate, and she's a close friend. I think that's also important when you live with someone."

Channeling her inner villain.
"It's just weird to be the thing that's scary in the movie. It's odd because more than anything, I felt sorry for her. As crazy and delusional as her point of view is, she actually doesn't mean harm. She means well. So I had to at least try to understand where she's coming from. She really just wants to fit in. It's very spooky, but she really wants a friend."

Portraying a psychopath forced Leighton to be a little anti-social on set.
"I think if I was off shooting the breeze with the crew and everybody in between takes it would have definitely lost the tension of the role. Not just for me, but for everyone. But filming with Minka was so easy and she made it light and fun. She was really supportive and kind about the whole thing. I give her a lot of props for dealing with me."

She has a few roommate horror stories of her own.
"I don't really know anybody who hasn't had a roommate or a friend who is just a little too nosy and in their business, or just takes their things without asking or eats their food. Everyone has this universal understanding of roommate drama. I have known my share of crazies and I've had roommates who are not so fun. But I live alone now, which I love."

Her career is on the right track.
"I've been so happy with how everything has gone so far, and I'm ecstatic with the direction I'm headed at the moment. I've been really lucky to play different roles and that's what's important to me. As exciting and thrilling as playing Rebecca was in The Roommate, I wouldn't do it again. Just like Blair — I probably won't ever play a character like her again. And the same with Country Strong. I think doing something totally different is nice."

She's very protective of her Gossip Girl character, Blair Waldorf.
"I'm totally selfish when it comes to Blair. I always ask the writers what's going to happen to her. That's all I really want to know. I feel like she gets such great arches and her dialogue is hilarious. It's still a challenge, which is nice for me because I never get bored. She's also grown a lot. She's gone through changes and they're actually having the character's age and grow appropriately."

How she's managed to stay grounded despite all her fame.
"Probably because I don't listen to compliments too much! I want an identity outside of my work. Fame is not what I want. I don't want fame. I don't want that for my life. I want to grow as a person and as an actor and that's what's important."

On the future of Gossip Girl.
"It's funny, somebody recently asked me, 'What's your future beyond Gossip Girl?' and I said, 'I don't know, it's a couple years from now.' And then after that everyone was saying, 'What's happening? Is the show ending?' But the truth is, I really don't know. That's not at all what I meant. I meant that our contracts are up in a couple years. I do know that they've talked about a movie, but I have no idea if that's a reality. I think we're just taking it one episode at a time and trying to make it as good as we can, and I think we're doing a good job. We still have season 5 and 6 left."
Leighton Meester's new movie "The Roommate" hits theaters nationwide tomorrow (Fri. Feb 4)!
Thoughts?
Be the first to receive breaking news alerts and more stories like this by subscribing to our mailing list.