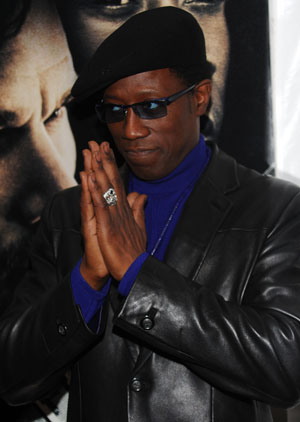 We guess that miracle Wesley Snipes was hoping for didn't happen afterall.
The actor, convicted back in 2008 on charges of tax evasion, began his 3-year prison term early Thursday afternoon (Dec 9) at a federal prison facility located in Pennsylvania. According to news reports, Snipes turned himself in just before his noon surrender deadline.
Wesley Snipes was sentenced to 3 years in prison in 2008 after it was determined by a jury that the "Blade" actor willfully failed to file tax returns over a 4-year period on a reported income close to $40 million dollars.
Snipes filed an appeal to overturn his conviction and to request for a change of venue to New York from Florida. In the appeal, Snipes also said he should have been considered for probation. That appeal, however, was denied in July.
Snipes made an appearance earlier this week on "Larry King Live" where he attempted to claim that he was innocent, and revealed that he was hoping a miracle of some sort would keep him out of bars. Snipes is best known for his roles in all of the "Blade" movies, as well as "White Men Can't Jump" and "New Jack Swing," among others.
Be the first to receive breaking news alerts and more stories like this by subscribing to our mailing list.