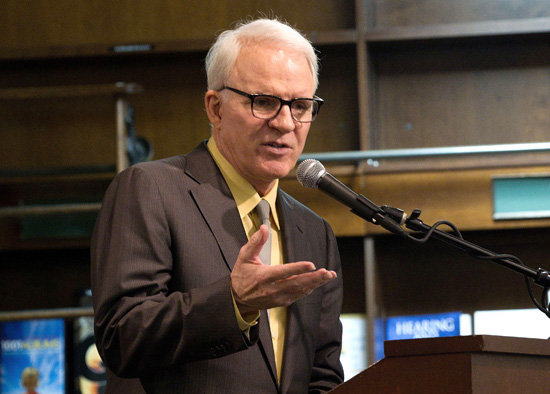 Steve Martin is reportedly upset after finding out his fans are being offered refunds following a club appearance from the funnyman earlier this week in New York City.
The comedic actor was interviewed by a writer from the NY Times Monday night (Nov 29) in front of a crowd at the 92nd Street Y venue in Manhattan, but apparently the "interview" bored the audience to bits. And to save face, organizers are offering FULL refunds, which has apparently pissed Mr. Martin off.
Full story below:
Guests became irritated when Martin and interviewer Deborah Solomon, a New York Times columnist, talked about the actor's new art world "An Object of Beauty," instead of his film career at an event Monday night. Halfway through the discussion, Solomon even received a note from a Y rep indicating viewers watching on closed-circuit televisions were upset that Martin wasn't talking about his movies.

The funnyman's appearance did not meet the organization's "standard of excellence" and was not the "comprehensive discussion that was hoped for," according to an email from the Y's Executive Director Sol Adler to the attendees. "Steve Martin is and has always been a gracious and inspiring presence on our stage and our patrons showed nothing but admiration and support for him in their comments to us," Adler told the Daily News in a statement. "Our decision to offer a refund was a direct response to numerous complaints we received about how the interview itself was conducted."

The 900 attendees were offered a $50 refund for each ticket they bought to be used toward another event at the Y. On the Y's website, the event was simply titled "Steve Martin with Deborah Solomon." A brief bio of Martin was posted, but there was no indication on what the discussion would entail.

Martin did not seem pleased with the outcome. "So the 92nd Street Y has determined that the course of its interviews should be dictated in real time by its audience's emails," he tweeted on Wednesday. "Artists beware."

Source: NY Daily News
Steve Martin is scheduled to appear this weekend on CBS' "Sunday Morning," which airs from 9-10:30 am Eastern.
Thoughts?
Be the first to receive breaking news alerts and more stories like this by subscribing to our mailing list.