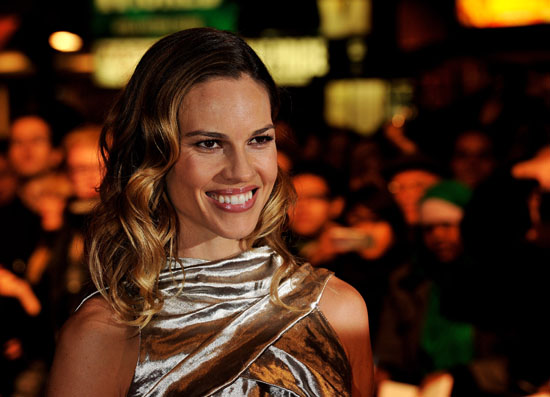 Hilary Swank's new movie "Conviction" is now open in select theaters nationwide and while the actress says she loves the story of her character (a single mother who put herself through law school), she says that it was hard for her to believe that the film was based real life events!
The 40-year-old actress plays a woman named Betty Anne Waters, a single mother who (despite never finishing high school) puts herself through law school while working as a waitress so that she can prove that her brother Kenneth had not committed a murder he was jailed for. But even though she loves the story, she struggled with the fact that it actually happened in real life.
Hilary told the UK's Daily Mail:
"There's a part of you that has to be like, 'This could never happen'. And then you realise that it is happening."
According to recent reports, Hilary Swank (who has won two "Best Actress" Academy Awards for her roles in "Boys Don't Cry" and "Million-Dollar Baby") is currently being considered for an Oscar for her role in the new film.
Check out a few pictures of Hilary Swank at the premiere of "Conviction" at the 54th BFI London Film Festival Friday evening (Oct 15) in London, England below…
Be the first to receive breaking news alerts and more stories like this by subscribing to our mailing list.