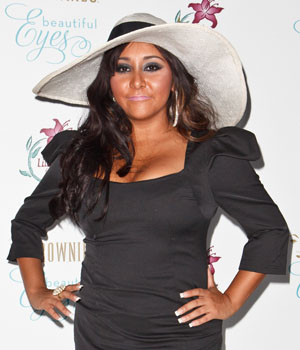 Snooki from "Jersey Shore" was ordered to do community service as part of her punishment for being charged with being criminally annoying this past summer after the MTV reality star was arrested for being drunk as as skunk on a beach in New Jersey.
And Snooki (real name: Nicole Polizzi) has almost completed her community service requirements, which, according to US Magazine included cleaning up after animals at a zoo.
On Sunday, Polizzi will spend her afternoon signing autographs at the New Jersey Seaside Heights Community Center for a fee (about $10 – 20, depending on whether you bring your own photo).
Proceeds go to the animal shelter friendly Donations of Love charity, which qualifies Snooki for counting this as part of her community service requirement.
"The autograph-signing is not technically part of her community service," Snooki's lawyer told the Associated Press "It's just a thank you to her fans who have supported her throughout this whole process, and it raises money for a good cause."
Good idea! Paris Hilton and Lindsay Lohan can learn from Snooki. Abide by the law and get some free publicity all at the same time!!
Snooki and the rest of her Jersey Shore friends, along with the cast of the "Real Housewives of New Jersey," were parodied on last night on an episode of "Sourth Park." Click Here to check it out!!
Be the first to receive breaking news alerts and more stories like this by subscribing to our mailing list.