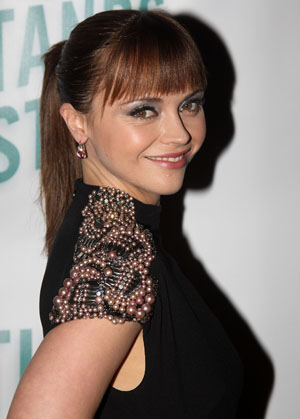 Everyone has a phobia, whether it's spiders, heights, closed spaces, darkness, death, etc. But Christina Ricci's phobia is quite unusual. The 30-year-old actress says plants freak her out!
"They are dirty," Ricci said. "If I have to touch one, then it freaks me out. Honestly, I can't go near them."
Another area outside of Christina's comfort zone is in the kitchen. The "Black Snake Moan" star says her busy schedule limits her ability to "learn how to make stuff." She said:
"I can cook about two things. I can boil hot water for the only pasta I can make. I blame my career, actors work crazy schedules and we are away so often. I just don't have the time to learn how to make stuff. But I need to, when you get back home after shooting there is always a great desire to create some kind of normalcy."
A lot of women these days can't cook, big deal but WOW at her being afraid of plants! It's always amazed us at how people can be afraid of inanimate objects or things that can't actually hurt you (like balloons, oranges, colors and event plants). How is that possible? That's so frikkin' weird!
Be the first to receive breaking news alerts and more stories like this by subscribing to our mailing list.