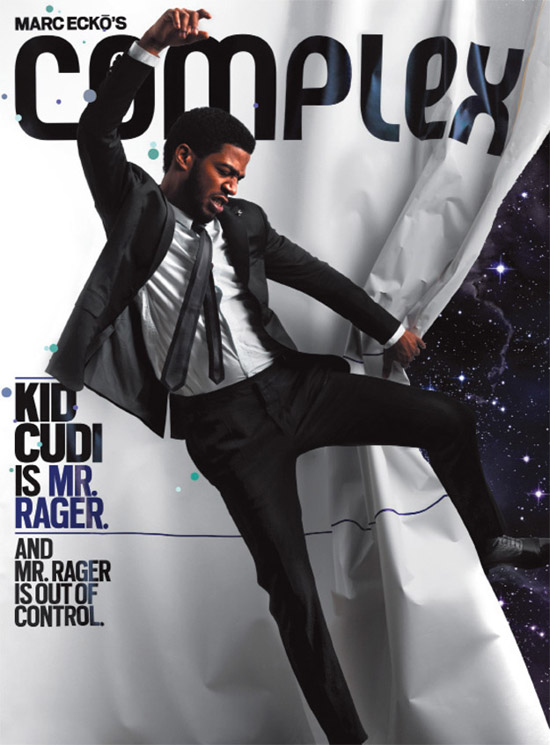 Rapper Kid Cudi covers the October/November 2010 issue of Complex Magazine and talks about a vast range of topics, including his cocaine use, his thoughts on fellow rapper Wale (he calls dude a simple ass rapper LOL!), his new daughter and more. Peep the excerpts below:
On using cocaine:
I started doing cocaine to get through interviews, 'cause people wanted to know a lot about my personal life and I wasn't prepared for a 60 Minutes interview every time. Doing bumps I was able to get through the day, but then I would smoke weed to calm me down—it was the only way I could get through the day without people noticing I was doing it.
I never thought it was a problem, but I was definitely high-fiving death a couple of times. It took a lot for me to talk about shit like this on the album. I don't feel like I need to explain myself to anyone besides the fans. My fans don't believe shit until they hear me say it. And those are true Kid Cudi fans. I want them to know the story.

[But] no more blow. People do drugs to camouflage emotions and run away from their problems. Now I'm going to deal with certain things as they come, prioritize shit—man up, so to speak. Just for the record, it bugged me out that people said it was liquid cocaine. No, I'm just fucking rich, and my blow comes in a jar. There was no liquid in it—that shit makes no sense.

On Wale firing shots in a freestyle "Throwin' 'round wallets like the dude that Kid Cudi hit":
It wasn't a shot, it's just a simple-ass rhyme by a simple-ass rapper. You can't let that shit faze you. That's one of those raps that just shows the world that you wack. Why would you even use that as a metaphor? Everybody think they Hov. Niggas ain't got the magic like they think they do; there's only a couple of wizards in this game. I'm a wizard and I know it.

On his new daughter (just born this year):
There's another thing people don't know. I have a daughter, born March 26th of this year. Her name is Vada, and she's fucking awesome. That was eating me up, and it was stressing me out that nobody knew about her. I was trying to escape from that, too. Just trying to figure it out and make everyone happy, it's a lot for somebody my age to handle. I was manning up and dealing with it in what I thought was the right way, but it was the wrong way. I want to be around for her. I can honestly say she was the wake-up call. The reality that it's bigger than just you now—you have a responsibility and there's no more time for mistakes. It's time to stop fucking around.

I was scared as fuck. I need to be a dad now, and I'm not with the girl—how does that work? Because having money isn't it. I just wanted to be a great dad, and I didn't think I was capable. Then I thought: When she gets here it's either nut up or shut up. She's my best friend and she doesn't even know it. That's why I always told myself I'm going to make these songs for my kids, so they can follow along and know my story, if something was ever to happen to me. No matter what motherfuckers are saying or haters are putting in their ear. She can put on my records and be like, "Fuck all that other shit, my dad was like this." But I might make sure she doesn't listen to this album until she's 40. [Laughs.] I'm excited about watching her grow, I'm excited to be a papa.
Be the first to receive breaking news alerts and more stories like this by subscribing to our mailing list.