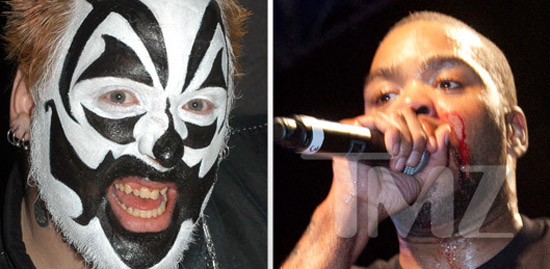 According to a member of Insane Clown Posse, also known as "ICP," rapper Method Man got what was coming to him! ICP's Violent J spoke to TMZ last week after word got out that rapper Method Man had filed a lawsuit against the group and organizers of the "Gathering of the Juggalos" festival following an incident involving a flying beer can……and Method Man's face.
Violent J told TMZ that the rowdy crowd at the Gathering of the Juggalos (an annual music event trademarked by the Insane Clown Posse, whose fans are called Juggalos), was chanting the word "family" (a term of endearment among Juggalos) as Method Man and his rapping partner Redman took the stage a couple of weekends ago. Well apparently, Meth didn't understand the significance of that particular word, and as he took the mic, he shouted: "F**k family! It's all about Hip-Hop!!" And it all went down hill from there…
Later during the duo's set, a crowd member hurled a full can of beer towards Method Man, and it hit him right smack-dab in the face!
Since the incident, Method Man has spoken out and is planning to sue. However, Violent J isn't worried about any legal action and told TMZ that he doesn't feel responsible at all, calling the pending lawsuit "straight b*tch sh*t." And despite the "bad blood" between the two parties, VJ says: "We don't think it should have happened … We respect Met and Red to the fullest."
We don't know what's worse. A group of meth (NOT the rapper) addicts disguised as grown men dressing up like clowns or talking about respecting someone after calling them straight b*tches. In any event, with all of the bad press this festival received this year, we wouldn't be surprised if the whole operation is shut down soon!
Source: TMZ
Be the first to receive breaking news alerts and more stories like this by subscribing to our mailing list.