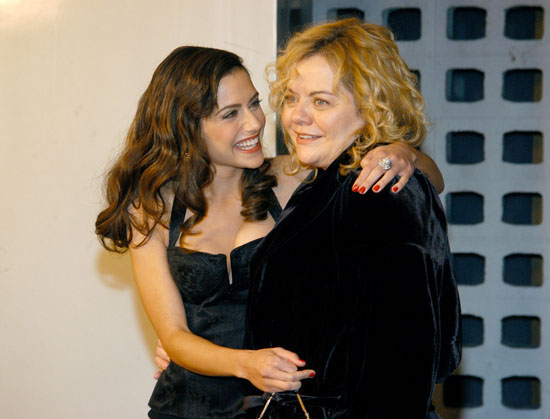 Brittany Murphy's mother is shooting down reports from TMZ alleging that her daughter and son-in-law's mysterious deaths were the result of a mold infestation in their home. According to the reports, California's Department of Public Health had allegedly decided to launch an investigation to see if toxic spores in their Hollywood Hills mansion had anything to do with the couple's deaths, which were less than 6 months apart. Brittany passed away in December 2009 and her husband Simon Monjack died 5 months later in May 2010, both due to pneumonia and anaemia.
However Brittany's mom Sharon Murphy, who lived in the home with the couple, says that there's no mold in the home and she's been nothing but cooperative with authorities handling the investigation, contrary to reports of her doing the opposite. She says:
"I have never been personally asked by the Coroner or anyone from the Health Department to come and inspect my home for mold. In the last eight months, I have been through the most unimaginable events, which no one could ever fathom. I have and will continue to be very cooperative and fully comply with any such request. It's absurd that this kind of misinformation is being reported by the media."
One of  the lawyers from Brittany Murphy's, Michael Schiff, backed Sharon up saying:
"To the best of my knowledge there has been no evidence of mold at the Murphy residence. The coroner confirmed with me today that black mold was not the cause of Simon Monjack's death. Coroner Ed Winter told me the case is closed and the cause of death was pneumonia."
Case closed? No one finds it strange that a husband and wife died of the same disease within 5 months of each other? And if "mold" killed them, how is Sharon STILL living there and healthy as a horse? So many questions, not enough answers. They need to dig deeper… for real!
Be the first to receive breaking news alerts and more stories like this by subscribing to our mailing list.