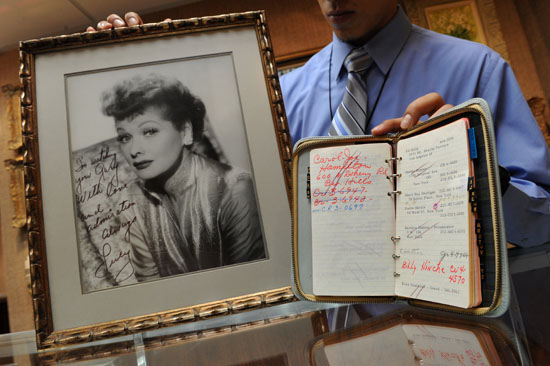 An auction house in California selling Lucille Ball memorabilia will be returning the actress' lifetime achievement awards to her daughter Lucie Arnaz Luckinbill. Luckinbill, Ball's first daughter with her first husband Desi Arnaz, was given her mother's lifetime achievement awards after a deal was reached Saturday with Heritage Auction Galleries.
Per Lucille Ball's will, Lucy and Desi's daughter was left items including love letters to the actress' second husband Gary Morton, a Rolls Royce and trophies from the TV star's acting career, but a lady named Susie Morton, the widow of Ball's second husband, said that because Luckinbill failed to collect the items, they were hers. And she planned to sell them off at Heritage Auction Galleries over the weekend, but Luckinbill stepped in and threatened to take legal action over her late mother's personal items because she felt as though the auction would "insult her memory."
A judge agreed to stop the auction Friday, but imposed a $250,000 bond that Luckinbill couldn't meet.
"We won on a legal basis, and the judge took it away from us on an economic basis," Luckinbill's attorney Ronald Palmieri said. "That is very sad."
However, Saturday (Jul 17) auction bosses stepped in and agreed to return the awards to Luckinbill, but the other items (the Rolls Royce, love letters, etc.) remained in the sale. According to the Associated Press, Luckinbill plans to display the trophies in a museum honoring her mother.
Be the first to receive breaking news alerts and more stories like this by subscribing to our mailing list.