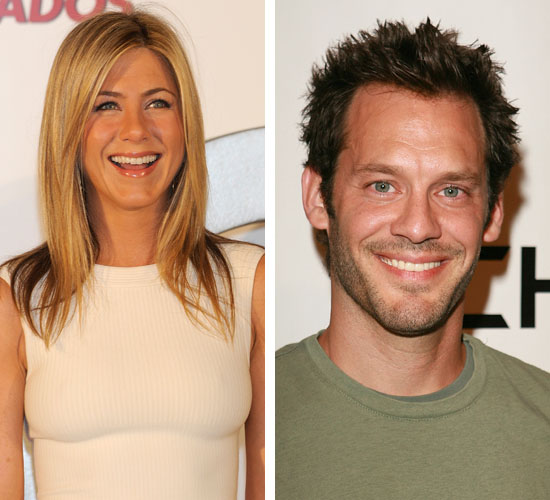 Looks like Jennifer Aniston has given up on winning her ex husband Brad Pitt back from Angelina Jolie. Her friends say the 41-year-old actress has finally found her perfect man. Aniston, who in the past has been linked to male celebs like Vince Vaughn and John Mayer, recently went out on a dinner date in Los Angeles with "True Blood" actor Christopher Gartin. A source tells OK! magazine that the pair split a burger and washed it all down with a bottle of Veuve Clicquot Rose at the Sunset Tower and Restaurant. The source said:
"She was bubbly in demeanor, seeming to be rather enthusiastic about something. They were talking about swimming pools and the pros and cons of chlorination or the new salt-water saline pools."
Swimming pools and chlorination? How interesting…
The source also says that the pair sat for two hours in a quiet corner before taking off in Chris' car following their date. Chris was recently asked to confirm his relationship status with Jennifer and he responded with "No comment." But Jen's friends say that the two are getting pretty close and that he's perfect husband material.
Another insider told OK! Magazine:
"Nothing could be better for him. Or more deserving. For both of them, actually. Chris is a gem of a guy. At first he's so good looking that you think he might be arrogant or something. Nothing could be further from the truth. He is so warm and genuinely caring. When you talk to him, he really really listens. He's right there for you.

"And how perfect for Jennifer Aniston. She deserves a really good guy, who is a family man and a father. He brought his children to the True Blood set once last year and he's so caring and doting. He's as natural dad, as if he were born to be a parent. How perfect for Jennifer if she wants kids and if their relationship takes them down that road.

"She can't do any better than Chris. He's been through a lot personally over the last two or three years, so it's about time that he's happy with someone that understands divorce, and all the drama that goes with it, and understands the value of family. That sounds like Jennifer Aniston to me."
This could be could for Jen. Someone needs to let her know that Angelina has a strong-hold on Brad and isn't letting him go ANY time soon!
Be the first to receive breaking news alerts and more stories like this by subscribing to our mailing list.