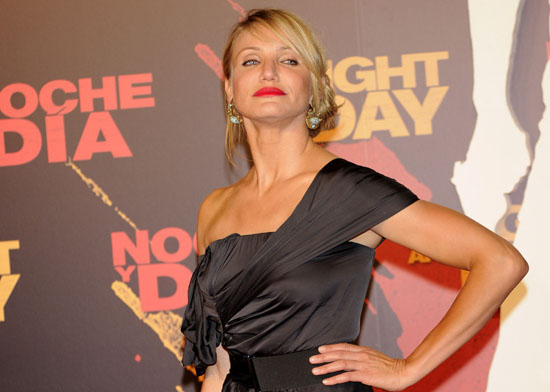 That Cameron Diaz sure is a freaky lil' ol' thang! The "Charlie's Angels" actress opens up about her sex life in the latest issue of Playboy Magazine, and in her feature, she says she'll travel anywhere in the world at any given moment for the three letter word. The 37-year-old actress, who has been linked to folks like Justin Timberlake, Matt Dillon, Jared Leto and more recently NY Yankees baseball player Alex Rodriguez, says her lifestyle makes it that way and she doesn't mind it at all! At the Spanish premiere of her new film "Knight and Day" she said:
"I can't even count how many times I've gotten on a plane for love. It's not unusual in this business – my lifestyle demands it. I'm always traveling for c**k. You've got to go where it is."
Diaz also told the magazine about how she's attracted to "primal" men.
"I'm primal on an animalistic level, kind of like, 'Bonk me over the head, throw me over your shoulder. You man, me woman.' Not everybody has the right kind of primal thing for me. I love physical contact. I have to be touching my lover, like, always. It's not optional."
Be the first to receive breaking news alerts and more stories like this by subscribing to our mailing list.