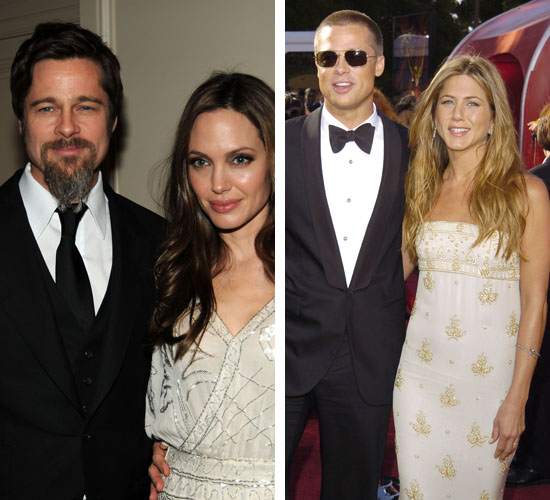 Word on the sidewalk is that actress Angelina Jolie is PISSED at her long-time partner Brad Pitt. Why? Because sources say the actor is hooking back up with his ex wife Jennifer Aniston. You know, the woman who Angie stole Brad from in the first place. Go figure.
Sources claim Brad and Jen started talking via text messages and phone calls, and even met in person a few times earlier this month as Angelina prepared to celebrate her 35th birthday. And when she found out? She went "mental!"
"Angelina went mental when she found out Brad had been texting Jen and meeting with her — despite his promise to cut all ties with his ex-wife," a source told the National Enquirer. "That news totally rocked Angie's world and she ended up calling her birthday celebration off at the last minute."
The snitch also says that when Brad came back to their Los Feliz, California home late one night, he and Angelina got into a huge fight.
"When Brad returned home, Angie confronted him abut where he'd been, and he insisted he'd seen a few buddies on the other side of the city. But Angie didn't believe him and is sure he met up with Jen — or at least called her for a heart-to-heart. Brad and Angelina had put their differences behind them, but that was because she believed he had cut ties with Jen for good.

"They really bonded in Italy [where Jolie filmed The Tourist with Johnny Depp] and Angie was so excited about spending her birthday with Brad and the kids. But when she found out that Brad and Jen had started talking again, it put them back to square one.

"She told Brad what she thought of him, and things got pretty unpleasant between them. As he's done on many occasions, Brad decided to get out of the house and give Angie space, so she spent the large part of her birthday alone."
What's that old saying? The way you got him is the way you'll lose him. Right? LOL!
Be the first to receive breaking news alerts and more stories like this by subscribing to our mailing list.