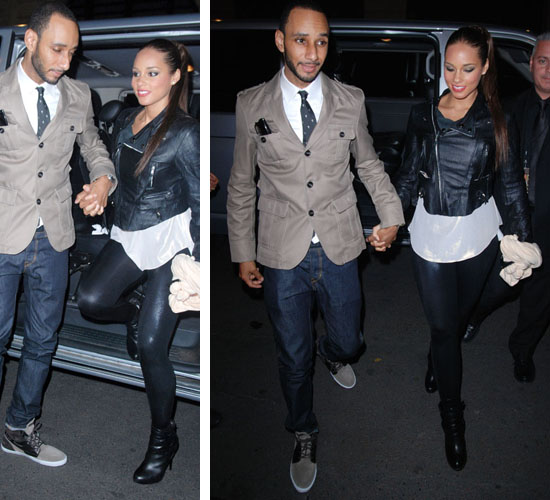 Newly announced married couple to be Alicia Keys and Swizz Beatz were seen leaving the Palais Omnisports deo Paris Bercy Monday night (May 31) in Paris, France following Alicia's "Freedom" Tour concert.
In related news, Swizz Beatz forked over more than $330,000 to avoid seeing his now ex wife Mashonda in Manhattan Supreme Court next week over unpaid child and spousal support. Originally, Swizzy and his lawyers said that he had been going above and beyond to provide for he and Mashonda's 3-year-old son Kasseem Jr. and called the non-support allegations "innacurate" and "overblown." But now it looks as though Beatz has had a change of heart and doesn't feel like dealing with the courts so he decided to just pay her off to make her happy.
Swizz Beatz and Mashonda finalized their divorce last month and just a couple weeks later following Alicia Keys' annual "Keep A Child Alive Ball" it was announced that Alicia and Swizz were engaged and expecting their first child together. Swizz told the NY Daily News: "I'm super-excited! People are calling me from Dubai and Japan. We haven't set a wedding date, but we will. We're just letting everything flow."
Peep a few pics of Alicia Keys and Swizz Beatz boo'd up in Paris below…
Be the first to receive breaking news alerts and more stories like this by subscribing to our mailing list.