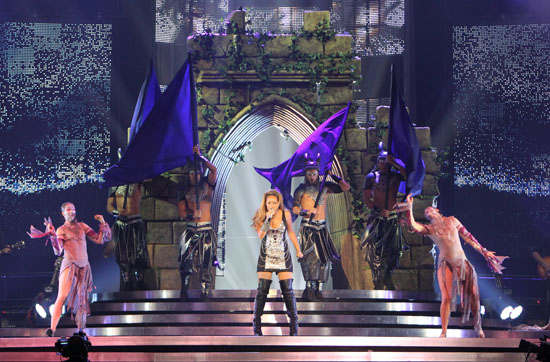 Pop and R&B singer/songwriter Leona Lewis kicked off her first solo tour last week at Sheffield Arena in the UK and here are a few pics of her performing at the Liverpool Echo Arena Monday night (May 31).
The UK singer says she was really embarrassed recently when she accidentally flashed her underwear. She says some wind machines were blowing during a performance and somehow the wind got under her dress and her "knickers" were briefly exposed:
"I was singing in front of some wind machines when my dress just blew up! I was only wearing a little pair of knickers, so it was really embarrassing. The wind machines were meant to be blowing my hair, so how did it get up my dress? I was like, 'Are you doing that on purpose?' … Everyone pretended they didn't see, but I know they did."
But just because she was embarrassed a little about flashing her undies to the crowd don't assume the "Bleeding Love" singer is a prude. She admits she finds skinny dipping "liberating." She says she and her friends once stripped butt nekkid and jumped in a swimming pool while on vacation in Portugal:
"I was with some girlfriends in Portugal. One of my friends was going through a hard time with her boyfriend, so we thought let's do something crazy. It was liberating."
Check out a few pics of Leona performing at the Liverpool Echo Arena in the UK below:
Be the first to receive breaking news alerts and more stories like this by subscribing to our mailing list.