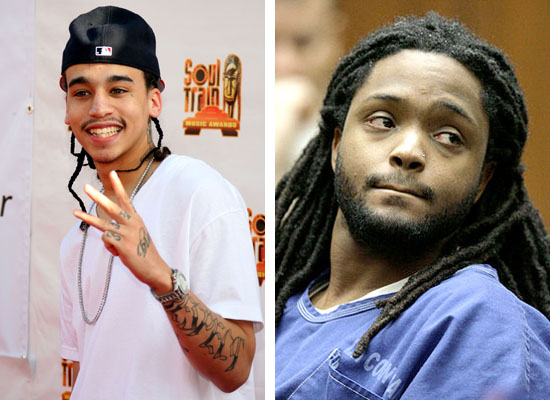 A California jury acquitted Aubrey Louis Berry of killing up and coming Atlanta rapper Dolla last May during a shooting at an upscale mall in the Los Angeles area. Jurors rejected the argument from prosecutors saying that Dolla's death was the result of a callous act of apparent revenge from Berry.
Dolla (real name: Roderick Anthony Burton II) and Aubrey were involved in a physical altercation at a club in Atlanta less than two weeks before the May 18th 2009 shooting incident. Berry's attorney claimed that his client shot the Konvict Muzik emcee in self-defense, and emphasized that the Akon protege lived a "glorified gangster lifestyle" in his rap lyrics and music videos.
Berry, who has remained jailed since the May 18, 2009, shooting, hugged his attorney but was otherwise unemotional after the verdict. Burton's mother, Dayna Robinson, sobbed. "Oh please, somebody help me," Robinson said, as she and other family members filed out of the courtroom. Deputy District Attorney Bobby Grace painted Berry as a killer who methodically aimed at Burton during the shooting, then ordered a valet to retrieve his rented sport utility vehicle while still clutching his gun. In his closing arguments Monday, Grace claimed Berry had no remorse. "Defendant Berry murdered Roderick Burton in cold blood, then tried to escape to Atlanta," Grace said. Berry brought the gun to a business lunch at the mall. The men spotted each other at a restaurant and exchanged words in the valet area. It was then, Grace said, that Berry pulled his weapon and used it "as an instrument of death in a symphony of violence." Grace said Berry drove around Burton as he was dying and began to plot his escape.

Defense Attorney Howard Price, however, painted a very different picture of Berry, who was soft-spoken last week as he testified about a series of incidents that led up to the shooting. The college-educated Berry said he worked in commercial marketing, in the music industry, and "never killed anything" growing up. Price portrayed Burton, conversely, as someone who proclaimed a violent streak, bragging in his lyrics about carrying guns, singing "You be running when I shoot, I be shooting where you running" in one tune. Price said Berry opened fire because Burton threatened to kill him and he feared he had a gun. The 24-year-old Atlanta resident was fearful because he believed the rapper had gang ties.

The jury on Friday found Berry not guilty of first degree murder and all other charges, including assault with a firearm. Grace looked dazed after the verdict was read. "Obviously, I'm disappointed," he told reporters. When asked about Burton's gangster image, Grace said he hoped that wasn't the tipping point for the jurors. "I would hate to think that the jurors' decision was based solely on lyrics," he said. "It appears they believed what the defendant had to say."

SOURCE
Dolla's murderer must have had a really good lawyer. How do you get away with a "self defense" claim and Dolla didn't even have a gun on him? And it's just messed up how they could use rap lyrics (instead of real life situations) to decide that a gun-wielding man who shot and killed someone in cold blood was completely innocent. Just a sad ending to a very sad story…
Be the first to receive breaking news alerts and more stories like this by subscribing to our mailing list.