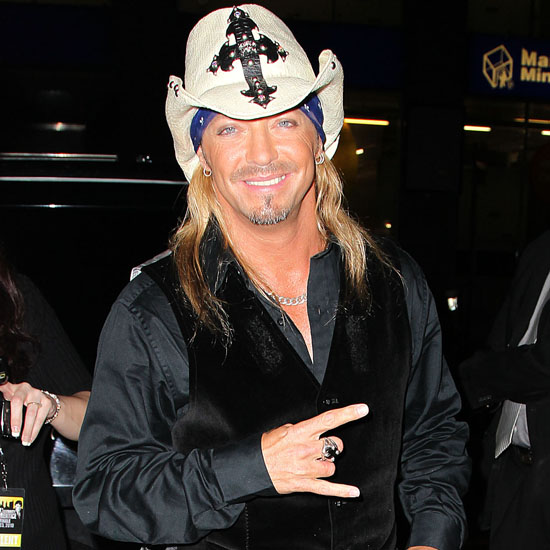 "Celebrity Apprentice" Season 3 winner Bret Michaels revealed that he is to undergo heart surgery this fall to fix a hole in his heart that was discovered last week after the rocker suffered a "warning stroke." Bret told Access Hollywood that he will go under the knife to repair his damaged heart once he is free and clear of the medicines he's currently taking to keep his body functioning following his recent health scares over the past couple of months.
"What they'll do is they'll go in and they'll do the heart operation in the fall," Michaels told Access. "They have to let everything clear out and then they'll go in and do the operation in my heart and then I'm gonna be great. I don't have any other options except to think that it's gonna be great, it's gonna be a smooth operation and I'm gonna feel awesome."
Michaels said he feels "amazing" presently, but back when he first was hit with a brain hemorrhage in late April, it was a much different story. "I've never felt pain like that ever," Michaels told Access. "I got knocked out at the Tonys by a wall and it didn't feel half as bad as that did."

The rocker-turned-reality star said when he first suffered the condition, being told he "wasn't dead yet," but was facing a life-threatening injury, was terrifying, mostly as he thought of his two daughters. "It was probably one of the scariest moments in my life… that was… up there with probably the scariest moment in my life," Michaels recalled. "This could be it. Your life doesn't flash in front of your eyes. You don't all of a sudden have a rewind of your childhood, at least I didn't. What happened to me is I got very sad that I may never see my kids again, and my family. I was like, 'This can't be happening.'"

While Michaels continues to be treated for his condition, he has no regrets about having flown out for the "Celebrity Apprentice" finale, despite a doctor's advice. "I just made the decision I have to set a goal in my life and yes they were very adamant that this is not the best thing to do," Michaels said. "And… it rocked."

SOURCE
Be the first to receive breaking news alerts and more stories like this by subscribing to our mailing list.