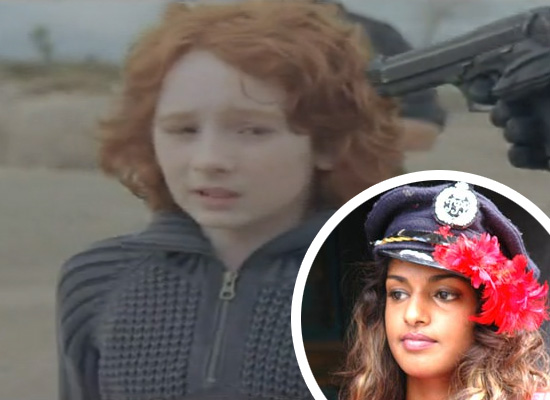 M.I.A. released a promo video for her new single "Born Free" last week and in it a little boy's head is blown off (literally). But that's not the only incident of extreme violence in the graphic 9 minute clip, which was banned immediately from YouTube after bosses deemed it unsuitable for the website due to the graphic violence and nudity.
In the promo, military police round up red-headed boys in a series of violent raids, transport them to a remote desert location and then force them to run through a minefield, beating those who make it to death. Child actor Ian Hamrick, whose character is shot in the head at close range, has yet to see the full video, but he insists M.I.A. doesn't deserve criticism for filming the bloody massacre.

"I think she was trying to show violence to end violence," he told TMZ. "The video is definitely not for kids – I haven't even seen the full video myself – but, for all the adults and people in different countries who are doing that (killing people) in real life… doing the genocides to whatever – Italians, Africans, wherever it's from, it's still genocide (sic). So it's showing violence to end violence."

CONTACT MUSIC
If you're interested in seeing the video for yourself continue reading to check it out…
Be the first to receive breaking news alerts and more stories like this by subscribing to our mailing list.