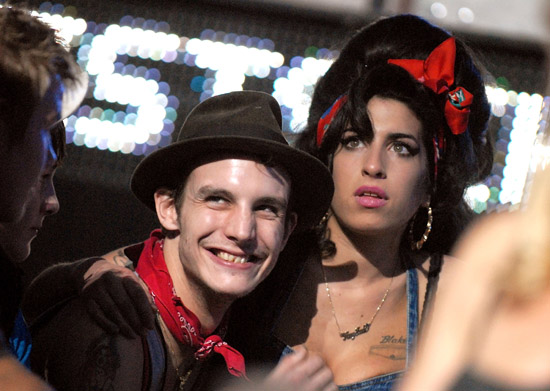 Amy Winehouse's ex husband (and now boyfriend) Blake Fielder-Civil is tired of hearing about Amy throwing herself at random guys when she's drunk and not with him. After Blake heard about her throwing her legs around some guy and kissing him all over his face at a recent barbecue, he got really angry and is now demanding that she moves to Sheffield to be with him while he finishes treatment in rehab.
A source told London's Daily Star: "Blake flew into a rage when he heard about Amy's antics at a recent barbecue. He knows Amy's a fun-loving girl but he's furious over her antics with a stranger at a party." The diva, 26, reportedly wrapped her legs around a sexy male, kissing him all over his face, before disappearing upstairs for half an hour.

Despite declaring her love for ex- hubby Blake and insisting they are soulmates who will remarry, Amy is said to have announced: "Don't worry about Blake. He wouldn't care anyway." But Blake, 31, now wants to keep an eye on her 24/7. Our source said: "He is demanding she moves to Sheffield while he finishes his stint in rehab. He wants her to move north so he can keep tabs on her."
And he thinks moving her to Sheffield will stop her from humping random guys? As if Sheffield doesn't have booze and humpable men. Get real, Blake, you must not really know your ex wife/girlfriend!
Be the first to receive breaking news alerts and more stories like this by subscribing to our mailing list.