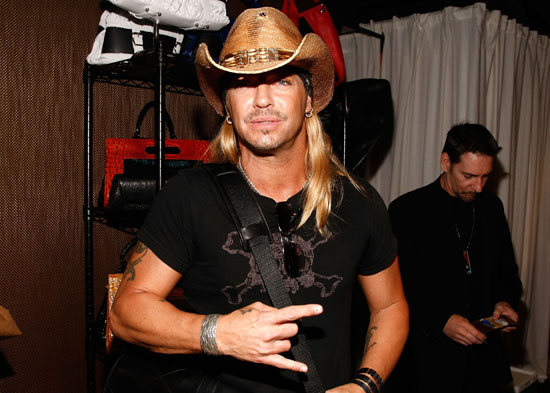 Poison front-man Bret Michaels is now in better health condition and was released from the hospital yesterday afternoon (Apr 15) after undergoing an emergency appendectomy.
The rock star had been suffering from stomach pains since late Sunday night right before taking the stage at Sea World in San Antonio, TX. And early Monday morning the 47-year-old singer had to be rushed to hospital with what he thought was a serious case of the flu.
Turns out, he had a case of "acute appendicitis" and had to have his appendix removed. But Bret's rep says that he's doing fine, despite him being a 47-year-old diabetic.
"He's still remains under supervision at an undisclosed private care facility specializing in the rehabilitation of diabetic patients…"

Doctors determined that Michaels had acute appendicitis and removed his appendix at 1 a.m. Monday. His rep told Us Monday night that he was "doing well and beginning the road to recovery…While the surgery went well and doctors are optimistic that the rocker will make a full recovery, the fact that he was exhausted due to his rigorous schedule prior to the surgery and coupled with the fact that he has diabetes, the surgery has taken its toll." his rep says in a statement.

"Even for non diabetic patients, the recovery from surgery can be long and painful. Doctors were amazed at how good of health Bret was in being a 47 year, old diabetic.  However the main focus and concern right now is that he is able to rest, recover and maintain good blood sugar levels while doing so."

US MAGAZINE

Bret, who once had his own VH1 show "Rock of Love," currently appears as a contestant on Donald Trump & NBC's hit reality competition series "Celebrity Apprentice," and was on tour when he had to go to the hospital this week. His rep tells People they're not sure how many tour dates will have to be moved, but his dates through April 24th are currently being rescheduled and will be announced on his website soon.
Be the first to receive breaking news alerts and more stories like this by subscribing to our mailing list.