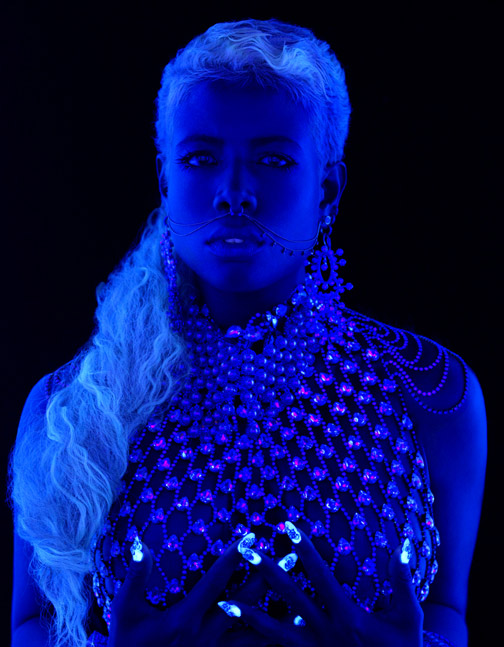 Between being a mother and trying her damnedest to take her estranged husband Nas for everything he's worth, singer Kelis is a pretty busy woman! But that's not stopping her from putting out new material and making some more money to fund her lavish lifestyle. "Acapella," the debut single from her forthcoming 5th studio album FleshTone, due in stores May 4th, hit No.1 on the Billboard Dance/Club Play Songs Chart this week; and her label put out a picture of her in the song's upcoming music video.
In a recent interview with VIBE Magazine, Will.i.am, head of Will.i.am Music Group, the label Kelis' new album will be released under, said that the singer, popular for her "Milkshake" song back in the early 2000's, could be as big as his group the Black Eyed Peas.
"Kelis has always been a best kept secret," says will, who inked the singer/songwriter to his Interscope-distributed label, will.i.am Music Group last December. "The cool people know Kelis. But the majority of people just know 'Milkshake.' If Kelis were fashion she would be a girl's favorite pair of shoes or a coat…high fashion. I would like Kelis to show she's an international sensation. She can be big. A lot of people think big is being on the radio or that being big is having a show in London, France and sometimes Japan. But that ain't international…that's just three countries. The Black Eyed Peas are big; the Black Eyed Peas are international. I think Kelis can be that big. As big as the Peas."

Will also points out that artists like Kelis usually don't get their deserved shine because of out-of-control egos that control the hip hop industry. "A lot of time rappers have these labels and they don't let their artist become bigger than them," he says. "I've proven that's not me. Fergie is huge. When Fergie blew up she was bigger than me! I believe Kelis can do the same."
FleshTone, Kelis' first album in nearly four years, will be launched alongside a promotional tour that is set to kick off at the Winter Music Conference in Miami later this month. Additional details will be announced shortly.
Be the first to receive breaking news alerts and more stories like this by subscribing to our mailing list.