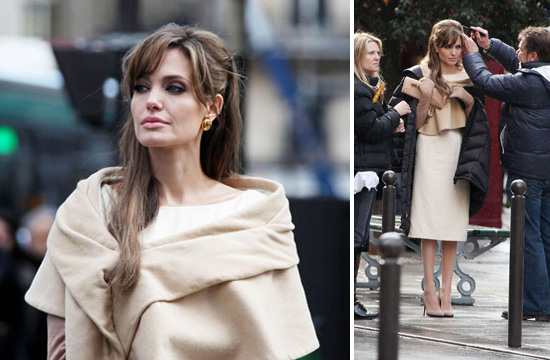 Angelina Jolie is a tourist!
Angelina Jolie has left Italy and is now in France filming her new movie "The Tourist." The 34-year-old award winning actress was spotted in Paris earlier today on the set of the film, which is set to be released about a year from now. Directed by Florian Henckel von Donnersmarck, the upcoming remake of the French film "Anthony Zimmer" also stars Johnny Depp and Sam Worthington, according to Wiki.
In related news, it's being said that Angelina turned down the chance to reprise her role as "Fox" in the upcoming sequel to "Wanted" so that she can work on Warner Bros. new space thriller "Gravity." NY Mag is saying that the studio really wanted her to be in "Wanted 2" and now that she's backed out, they've pulled the plug on the film rather than recast.
Like Wanted 2, Gravity had previously been set up at Universal, with Jolie set to star. But a few weeks ago, the studio put Gravity into turnaround, possibly because it's such an artistically challenging project: Jolie would be alone on-screen for much of the movie, playing the sole surviving human member of a space mission, desperately trying to return home to Earth and her daughter. (In that way it's reminiscent of the brilliant, little-seen Moon with Sam Rockwell. Seriously, why won't you see it?) Now Warners has snapped it up, and it will be produced by Harry Potter and the Deathly Hallows producer David Heyman and Legendary Pictures.
Check out a few pics of Angelina on the set of "The Tourist" in Paris below…
Be the first to receive breaking news alerts and more stories like this by subscribing to our mailing list.