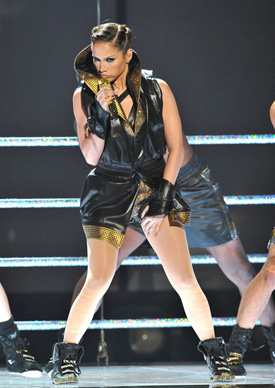 After a couple of years of success and a failed return to music, Jennifer Lopez has just been dropped from Sony's Epic Records. Check out the statement released by J.Lo's manager Benny Medina:
"Jennifer had a wonderful relationship with the Sony Music Group, and they have shared many successes together, but the time was right to make a change that best serves the direction of her career as an actress and recording artist, she is grateful and appreciative to everyone at Sony for all that they accomplished together."
So what will happen to her album, Love?, which was slated to his stores in April? No one really knows, but we hear that the album's material is nowhere near ready to be released, which played a major role in the reason behind her being booted from the label.
It's definitely sad to see this happen to her, but it was bound to happen eventually. Clearly these record labels aren't messin' around with their money. It looks like the days of mediocre talent are coming to an end because the music industry can't afford to take gambles on this type of talent. Jennifer Lopez has always been a sexy entertainer, but she has always somewhat lacked musically (minus a few catchy songs) and it's finally caught up with her now that nobody is paying much attention to her once-famed booty.
All isn't lost though, because Lopez's rep tells Entertainment Weekly that she's already negotiating with a few labels. That plus she's set to host NBC's "Saturday Night Live" this weekend. Think she'll make light of the situation and throw in a few "I got dropped from my label" jokes?
Be the first to receive breaking news alerts and more stories like this by subscribing to our mailing list.