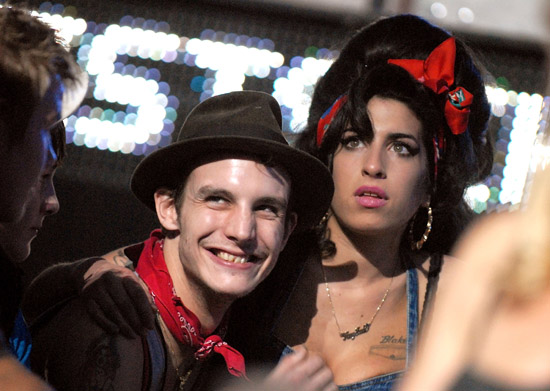 British singer Amy Winehouse is planning to remarry her ex-husband Blake Fielder-Civil. According to recent reports, he has been insisting they give it another shot at love and try to do things right by re-exchanging vows at the alter.
The finalized their divorce last August after Blake told a judge he wanted out of the marriage the month before because of Winehouse's adultery, following a two year hiatus, which is when the  pair started doing drugs. The couple since then have been photographed publicly embracing each other bringing speculation that they might be together again. Blake tells Britain's Heat magazine:
"Amy's wearing the Tiffany ring I bought for her three years ago again. We've been meeting up and talking about the old times. We talk about going away somewhere and getting married… We've decided we'll take things slowly. We want to get things right this time. I need to find a career and be able to support myself. It wouldn't make sense for me to move in with Amy. We were addicts together and were very co-dependent. It would be irresponsible for us to move in together straight away. I have spoken to (Winehouse's dad) Mitch and he was OK with me. He knows we have to get on for Amy's sake. My mum and brothers are really supportive, too.

"We'll get married again one day. But I don't think we'll run away to get married on a beach. This time I'd like it to be a proper wedding with both our families there. Both me and Amy know we will be together some time in the future… We both realise she has to concentrate on work now. And I have to concentrate on getting my own life together."
What the hell is the point of paying all that money for a divorce if you're going to get married a year later? These two can't be sober right now…
Be the first to receive breaking news alerts and more stories like this by subscribing to our mailing list.