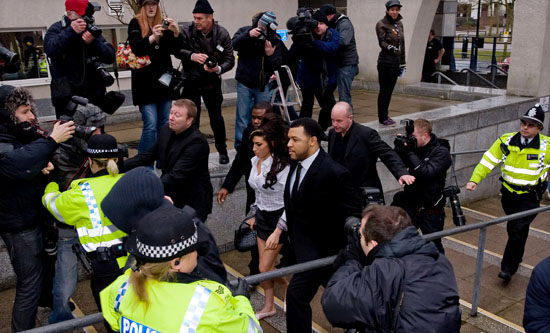 Troubled British singer Amy Winehouse was met by a mob of press and photographers as she arrived at the Milton Keynes Magistrates Court Wednesday afternoon (Jan 20) in London for a court appearance on assault charges. Winehouse pleaded guilty to assaulting a 27-year-old theater manager named Richard Pound in an incident that occured in December 2009.
The incident occurred in December during a Christmas pantomime performance of "Cinderella" at the Milton Keynes Theatre, which is located north of London in central England.

According to prosecutors, Winehouse, who admitted to having had five vodka and Cokes before the attack, pulled Pound's hair and called him a f—–g c–t after he refused to give her more alcohol and suggested that she have a glass of water instead. Prior to the attack, Winehouse had already caused something of a stir during the performance (which, incidentally, featured legendary American actor Mickey Rooney) when, during audience participation time, she got a bit carried away, prompting a member of the audience to tell her to be quiet.

SOURCE

Fortunately for Amy she didn't receive any time behind bars, but she was slapped with a measly £100 fine, which is about $160 USD, and was given a "two-year conditional discharge." But the judge made sure he made it clear to Amy that if she gets in any more trouble with in the next two years, she will be "hit hard… and hit twice."
But we all know she's not gonna listen and is gonna end up some big German woman's cell mate.
Be the first to receive breaking news alerts and more stories like this by subscribing to our mailing list.