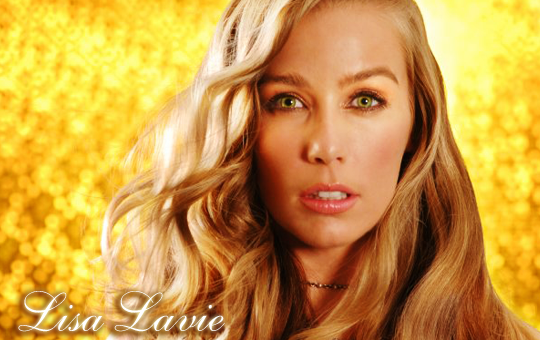 I've been following this artist for a while and I couldn't tell you how happy I was when I heard back from her. When I first heard her music, I will be honest and say that I didn't know what to think, whether to like it or not; but something about her voice kept me listening and I'm glad I did.
Lisa Lavie is from Montreal but currently lives in Thousand Oaks, California. Lisa was introduced to music very early on in her life, growing up in a musical household: her brother Danny is a Hip-Hop DJ and her other brother Michael was a Hip-Hop dancer. She started singing at the age of ten but never saw it as a career move till she was sixteen. With vocal influences from artists such as Mariah Carey, Boys II Men, Brian McKnight, India Arie, and Alicia Keys, Lisa's sound, as I mentioned earlier, is different from most mainstream artists, but it is not necessarily a bad thing. Actually, in her case, I applaud the vocal difference. She can hit both low notes and high notes and that is why she stands out. Lisa has appeared on Entertainment Tonight Canada and also released her independent debut album Everything or Nothing last year. The album peaked at #20 on the iTunes Pop Chart and #70 on the overall iTunes chart on its second day without the backing of a label. Lisa currently stands as the 38th most subscribed musician of all time on YouTube and the 2nd most subscribed musician of all time in Canada. If you ask us, she's on her way to the top.
Follow the break for videos from Lisa (including an interview with ET Canada) and a short exclusive interview!
USE SOMEBODY (KINGS OF LEON)
THE CLIMB (MILEY CYRUS)
BATTLEFIELD (JORDIN SPARKS)
ENTERTAINMENT TONIGHT CANADA
GOT: Your sound is different from a lot of the mainstream female singers out right now but you still attract quite an audience! What do you think it is about your voice and style that makes you unique? Do you think it is hurt or helped you (or both) as you try to break into the industry? Why?
LISA: I think the reason why people may think my sound is different is because I have a low singing voice as well as a high voice. Most singers I hear on radio have a high pitch sounding tone. I definitely feel that this is what sets me apart. I think this has helped me in my musical journey as people like hearing a wide variety.
GOT: What made you decide to record and release an album without the support of a label? Were you happy with the decision and how it performed?
LISA: Initially I had planned on a major recording contract but I soon realized that no one cared more about my music than I did.
More often than not artists get shelved and no one ever hears about them or their stories. They're tied up in label deals on a dead end road that will never see the day of light. I knew that I couldn't put myself in that situation and I wasn't about to take a chance.
I'm happy in regards to my creative freedom but there's definitely way more to strive for.
GOT: What are your accomplishments since entering the music scene?
LISA: My accomplishments more than anything has been touching people's lives. I can't tell you how amazing it is to write a song and then to find out how many people have be affected in a positive way by a certain lyrics that they can relate to.   It's the most humbling feeling.
GOT: Did you work with any professional writers and/or producers for your debut? If so, who were they?
LISA: I wrote all of the lyrics as well as the melodies on this first album and I had quite a few musicians lend their talents and arrangements to the album with Ben Margulies being the primary producer.
GOT: Have you been in contact with any labels?
LISA: I've been in contact with a few labels but until I get a gut feeling that a certain label is the right label for me, I wouldn't entertain the idea of signing with anyone.
GOT: Have you heard back from any of the writers or original singers of the covers you have on YouTube?
LISA: Yeah, I actually heard back from Jordin Sparks, She twittered about my cover version of her song "Battlefield". That was Awesome 🙂
GOT: If you could collaborate with one male artist and one female artist, who would they be? Why?
LISA: I would love to collaborate with Alicia Keys, I think she's brilliant and I love her style. I feel that our song-writing styles would mesh really well.
In regards to a male artist, I love Brian McKnight. He was such a huge inspiration to me growing up and I would love to collaborate with him.
GOT: Where do you see yourself ten years from now?
LISA: In ten years from now I see myself touring the world, writing songs for myself as well as other artists, still recording album's, being involved in certain charities. I see myself having a family, living life and loving it.
GOT: What is the most important thing you have learned during your journey?
LISA: I've learned during my journey is that success doesn't come overnight. You have to work extremely hard to break through and even when you work really hard often times talent is only 10% of the equation, everything else has to line up just right to make things work. I'm still trying to figure out the remainder of the equation.
GOT: Final word from Lisa:
LISA: I probably would have given up on my music career already had it not been for all of the support that I receive on a daily basis from fans around the world. They keep me going and pushing forward despite all odds. I'm so appreciative of them.
By: Kenni Nwajagu
Contributing Editor for Gossip On This
Make sure to check out Lisa's Youtube and Twitter page.
GOT readers:
we are asking for your help! If you are subscribed to or know of an artist or group on YouTube that you think everyone should hear about (even if it's you), let us know! Our only requirement is that they are unsigned. From there, we will follow up on your request and get in contact with them. You can send me an e-mail at
kenni@gossiponthis.com
or hit me up on twitter:
twitter.com/kenni329
. We want to continue this feature for a long time but we will need your help. Thanks!
Be the first to receive breaking news alerts and more stories like this by subscribing to our mailing list.