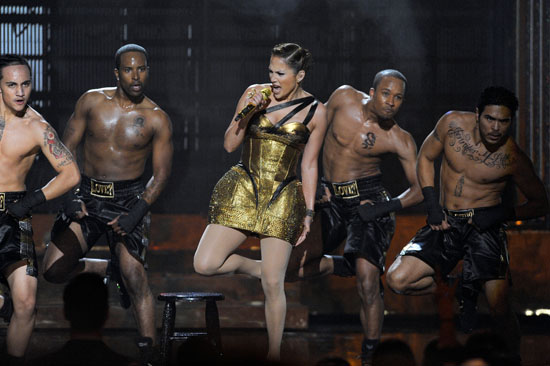 According to People en Español, she's the most influential Hispanic entertainer of the United States. But for the few days (or weeks) she'll be known as the girl who busted her azz live on stage during her performance at the 2009 American Music Awards! Pop singer Jennifer Lopez was performing her new single "Louboutins" at the nationally (and worldwide … thanks to the internet) awards show when she all of a sudden had a choreography malfunction. Via our good friends over at Pop Eater:
While performing her new song 'Louboutins' at L.A.'s Nokia Theatre on Sunday, she climbed a stair of dancers and jumped off. That's when Lopez landed on her butt instead of her feet, but she made a quick recovery. Near the end, she asks: "You miss me?"
Dayum! Good thing she got right back up and kept it moving though. Honestly, we were watching the show without WATCHING (hey! it was pretty boring… you know how it is) and we missed the fall and didn't really get a chance to see it 'til it popped up all over the Internet. So if you blinked, you would have missed it because of how quickly she recovered. She even joked around with People, telling them it was "part of the choreography."
All part of the plan. That's what a laughing Lopez told Ryan Seacrest on his KIIS-FM radio show the day after the slip that became water-cooler talk in offices around the country. "Did I trip a little bit? I don't even remember," Lopez, 40, joked on Monday morning. "Yeah, I meant to do that. That was part of the choreography." Seriously, though, Lopez accepted props for her rapid recovery.

"The measure of things isn't what happens when you fall, it's how you recover when you fall," she said. And the important thing was that she was back onstage, having a ball. "It was fun, it was really fun," she said. "It was nice to be back on stage and doing my thing."
Continue reading for the video of her performance (if you're looking for the fall, it happens at around the 3 min mark)!
Be the first to receive breaking news alerts and more stories like this by subscribing to our mailing list.