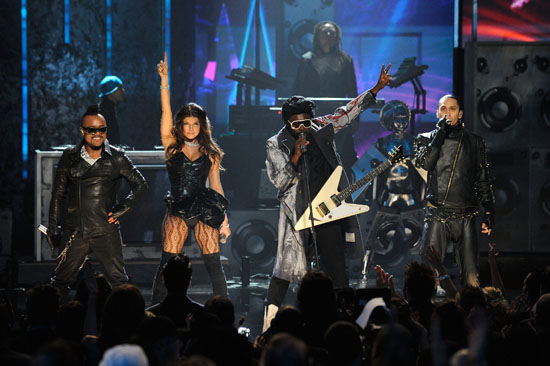 The Black Eyed Peas took the stage last night at the 2009 American Music Awards, held at the Nokia Theater in Los Angeles. The highly successful "hip-pop" group managed to take over the Billboard charts for the majority of the year and Will.i.am let it be known at the end of their their performance medley of two of their chart-topping singles, "Meet Me Halfway" and "Boom Boom Pow," when he shouted "Six months #1! The new kings!
Legendary R&B singer Whitney Houston performed "I Didn't Know My Own Strength," from her new album I Look To You. Her vocals weren't all that great, but it was her "comeback performance" (as far as awards shows are concerned) and at least she wasn't high on drugs or anything. So we definitely give her an A for effort, keeping in mind that she's gotten older now (and she used to smoke rocks back in the day) so her voice isn't EVER going to be like it used to be. At the end of her performance, which was met with a standing ovation from the audience, actor Samuel L. Jackson presented her with the "International Award of Excellence."
R&B singer/songwriter Mary J. Blige flawlessly performed her new single "I Am" and hit every single note perfectly. Her new album Stronger withEach Tear (originally titled simply "Stronger") is due to be released on December 22nd.
And pop-rock singer Kelly Clarkson's performance of "Already Gone" was also good, even if the song sounds like Halo Part 2. We'll even give her a pass on her rapid weight gain (homegirl must like to eat!) because we all know she can blow!
Be the first to receive breaking news alerts and more stories like this by subscribing to our mailing list.