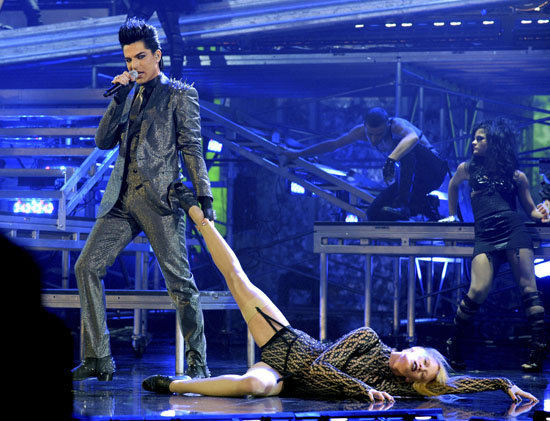 Simply judging by the picture above, we bet you already know openly gay singer Adam Lambert's performance of his debut single "For Your Entertainment" was far from "the usual!" Between him kissing boys and walking them likes dogs, dragging women on the floor and pretending like he was getting some dome from a dancer, we didn't know what to think! But according to Lambert himself, he doesn't give two sh*ts about what anyone thinks about his performance, which despite all of the craziness, was pretty good. But uhh … back to that "kiss," which the American Idol runner-up says wasn't even supposed to happen!
Adam Lambert's sexually suggestive choreography — including kissing another male — on the American Music Awards stage Sunday night happened "in the moment," the singer told CNN. Lambert, who is openly gay, said it is "a form of discrimination and a double standard" for anyone to object since "women performers have been pushing the envelope" for decades.
This guy is already pushing the envelope and he JUST released his first single! Can you say; "Male Lady Gaga" ??? Adam's debut album For Your Entertainment is set to drop today (Nov 23) so his performance and the buzz he's getting right now because of it was GENIUS!
Other performers who took the stage last night were country music singer Carrie Underwood, producer/rapper Timbaland and Colombian singing sensation Shakira. Carrie performed her "Cowboy Casanova" single while Timbo opted to premiere his hot new single "Morning After Dark" with the help of Nelly Furtado and newcomer SoShy, who are both featured on the track. And Shakira sang her new song "Give It Up to Me" after her "Stomp The Yard" esque opening routine.
More pics from the performances when you continue reading!
Be the first to receive breaking news alerts and more stories like this by subscribing to our mailing list.