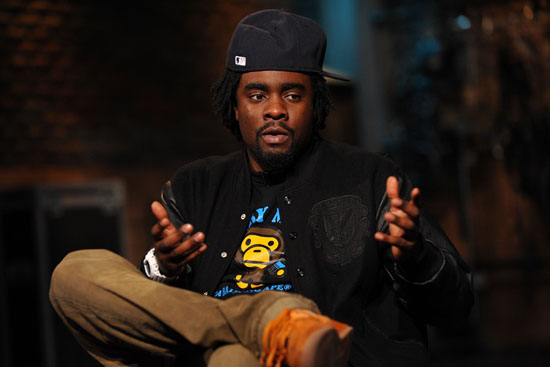 Sorry about the big gap in updates today, we had some biz to handle … just like these celebrities we caught on the scene handling their business this past Tuesday! Rapper Wale visited Fuse Studios in New York City Tuesday (Nov 10) to appear on Fuse TV's "Hip Hop Shop" to promote his new album Attention Deficit, which dropped that day. In a series of tweets following his debut album's launch, the D.C. born emcee said that each song on his album tells a story:
"On the train, bumpin' my album," he wrote. "I feel like telling y'all facts about Attention Deficit. Why not? There's a story behind every song. On 'Mama Told Me,' I had something stuck in my teeth. At the beginning you can hear me making this weird noise tryin' to get it out." (Warning: Once you know that fact, that's the only think you can hear.)

A few minutes later, he added that producer Mark Ronson actually encouraged Wale to tone down the lyrics of "90210," where he skewers Paris Hilton (among others). "I admit i was too mean on that," he wrote. Finally, he said that the album's best track almost fell by the wayside. "'Contemplate' almost didn't make the album. Jay-Z was a writer on the song sampled and we couldn't reach him until the last minute."

SOURCE
We also grabbed some new pictures of Kimora Lee, Taylor Swift, Russell Simmons, Ashton Kutcher, Demi Moore, Adam Lambert and more out and about handling their business too! Kimora attended the 2009 Emery Awards, which also doubled as the 30th anniversary of the Hetrick-Martin Institute, at Cipriani Wall Street Tuesday (Nov 10) in New York City. She also spoke at the event. // And young country music singer Taylor Swift attended the 57th annual BMI Country Awards in Nashville the same day.
Continue reading to check out the rest of the pictures and click on each thumbnail for more info!
Be the first to receive breaking news alerts and more stories like this by subscribing to our mailing list.