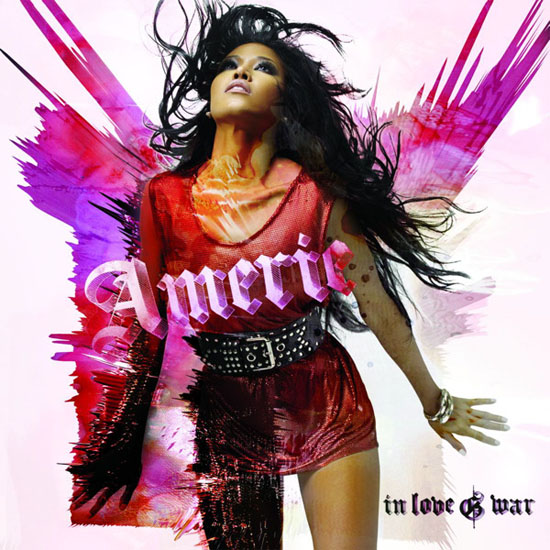 Amerie is back to fight her way back up the charts with her latest album, In Love & War. After Touch, her last US released studio album was released in 2005 she's back from a hiatus with brand a new home at Island Def Jam and a new line of producers behind her unique and soulful voice. With the release of her lead single "Why R U," she let fans get a taste of 80's Hip-Hop flare and hinted at what was to come next, which was the official single, "Heard 'Em All," penned and produced with the help of Sean Garrett and Eric Hudson.
You can definitely tell the absence of Rich Harrison was missed throughout this projectl though with the help from today's best, the project came out well written and the sound quality was efficient. Amerie has had a lot of buzz during the past week with the anticipation of her new album. Amerie released a album, Because I Love It, in 2007 which hit shelves in the US after a year of being in the UK. With a four year void of Amerie she comes back hard with with her track "Heard 'Em All" stating her landing back onto the scene.
In Love & War brings out a more eclectic Amerie adding Rock and Dance elements to the album. Although, the songs are fitting to Amerie's voice, it seems like producers spent too much time trying to emulate the sounds of Rich Harrison's "1 Thing". All in all, Amerie delivered strong vocally on the entire album. Her voice is definitely one that's missed throughout the R&B movement.
Super producer Bryan Michael Cox composed the soft slow-tempo "Red Eye." Rico Love penned the hard-hitting cut, "Swag Back," produced by Jim Jonsin. The track "More Than Love" which features Fabolous entails a dysfunctional relationship. The third single, "Pretty Brown," which features Trey Songz is reminiscent to the modern day version of her debut single, "Why Don't We Fall In Love," as far as sound is concerned.
If this album was to have a standard grade I think it deserves a B-. This album is solid. It may not resemble the older sounds when Amerie first stepped on the scene but her sound has definitely evolved with more diversity of sound.
Notable tracks: Heard 'Em All, Swag Back, Pretty Brown, Red Eye, Different People
Be the first to receive breaking news alerts and more stories like this by subscribing to our mailing list.